Monday, November 7, 2016 | 7:08:00 AM
Jagaddhatri Puja
The festival of Jagaddhatri Puja is celebrated in the splendid manner on the ninth day of the moonlit fortnight in the month of Kartik or November
The festival is being celebrated all over West Bengal with Chandannagar, a former French colony and a small town, 30 km north off Kolkata, capturing a special mention.
Jagaddhatri or Jagadhatri puja is one of the festivals observed by the devotees of 'Durga' - the Goddess of Power, who is also called Jagaddhatri i.e. 'the Protector of the World'.
Though she is worshipped all over West Bengal and some places of Odisha, Jagaddhatri Puja in Krishnanagar, Chandannagar, Boinchi, Bhadreswar, Hooghly, Rishra, Tehatta, Ashoknagar Kalyangarh, Ichapur-Nawabganj, North 24 PGS, Gopalbera, Burdwan and Baripada, have a special socio-cultural celebration. In Kolkata, too, Jagaddhatri Puja is a major autumnal Hindu event after Durga Puja and Kali Puja.
In Ramakrishna Mission, Jagaddhatri Puja was initiated by Sarada Devi, Ramakrishna's wife and observed in the centres of the Mission all over the world.

Jagaddhatri is depicted as being the colour of the morning sun, three-eyed and four-armed, holding a chakra, conch, bow and arrows, clothed in red, bright jewels and nagajangopaveeta (a serpent as the sacred thread), a symbol of yoga and the Brahman. She rides a lion standing on the dead Karindrasura, the Elephant Demon. "Jagaddhatri arises in the heart of a person," said Ramakrishna, "who can control the frantic elephant called mind."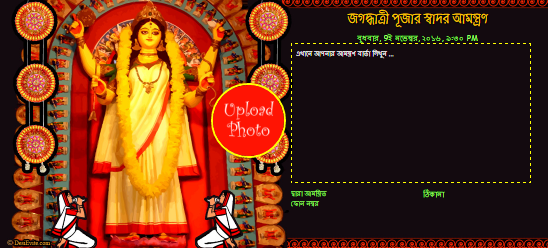 Posted By