Free online Good Friday Invitations.
Create and Send personalized online invitations for Good Friday with DesiEvite.com via email. Create Good Friday invitation card with your photo, name, piece of art or personalized invitation message/text. You can download your Good Friday Invitation card and can send through whatsapp, or can share on Facebook, instagram, google plus, pinterest, twitter,. You can send online invitation to your guest, friends can RSVP your invite and you will have list of people attending/not attending Good Friday.
Video & cards are compatible for

and all other Social networking sites.
You are invited at Good Friday Prayer (ID-17523 Free )
---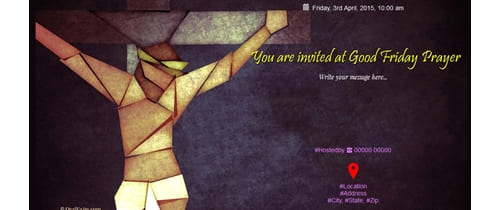 ---
Personalize Card
Greeting Card
Come and join for Good Friday Prayer (ID-17524 Free )
---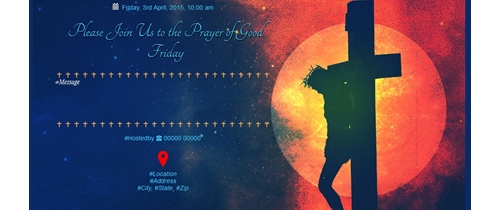 ---
Personalize Card
Greeting Card
Join for Good Friday Prayer (ID-17525 Free )
---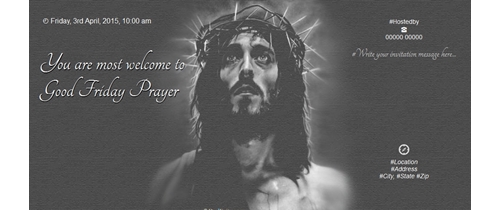 ---
Personalize Card
Greeting Card
Good Friday Good Friday, also known as "Holy Friday," is the Friday immediately preceding Easter Sunday. It is celebrated traditionally as the day on which Jesus was crucified. The lit