Free online Bhai Dooj invitation cards
Create and Send personalized online invitations for Bhai Dooj with DesiEvite.com via email. Create Bhai Dooj invitation card with your photo, name, piece of art or personalized invitation message/text. You can download your Bhai Dooj Invitation card and can send through whatsapp, or can share on Facebook, instagram, google plus, pinterest, twitter,. You can send online invitation to your guest, friends can RSVP your invite and you will have list of people attending/not attending Bhai Dooj .
DesiEvite.com is an online tool/software to create Bhai Dooj card for Whatsapp & Instagram.


भाई दूज का त्योहार भाई बहन के स्नेह को सुदृढ़ करता है। यह त्योहार दीवाली के दो दिन बाद मनाया जाता है। भैया दूज को भ्रातृ द्वितीया भी कहते हैं। इस पर्व का प्रमुख लक्ष्य भाई तथा बहन के पावन संबंध व प्र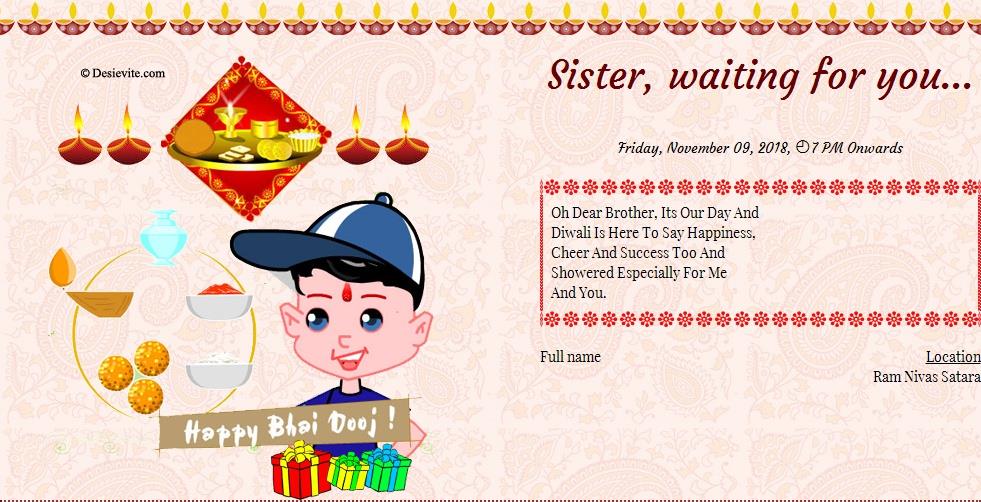 Bhai Dooj Invitation Wording and Sample Card English CREATE AN INVITATION »Oh Dear Brother, Its Our Day And Diwali Is Here To Say Happiness, Cheer And Success Too And Sho

Copyright DesiEvite.com, 2015-2018, Contactus Email : DesiEviteAdmin@DesiEvite.com