Tuesday, November 22, 2016 | 9:36:00 AM
Thanksgiving Day

Thanksgiving Day is traditionally a day for families and friends to get together for a special meal. The meal often includes a turkey, stuffing, potatoes, cranberry sauce, gravy, pumpkin pie, and vegetables. Thanksgiving Day is a time for many people to give thanks for what they have.

Thanksgiving Day is a federal holiday in the United States.

Thanksgiving Day is a national holiday celebrated in Canada and the United States. It was originally celebrated as a day of giving thanks for the blessing of the harvest and of the preceding year. Thanksgiving is celebrated on the fourth Thursday of November in the United States. Several other places around the world observe similar celebrations. Although
Thanksgiving has historical roots in religious and cultural traditions.

Providing free Thanksgiving dinners for the needy, holding food drives, and giving charitable contributions in general. The Salvation Army is especially famous for enlisting volunteers to serve Thanksgiving dinner to the poor.

Attending church services where congregants give thanks to God for the year's blessings. These are typically held the weekend before, the day of, or the weekend after Thanksgiving Day. The saying of grace over Thanksgiving dinner at home is also a highly traditional moment of the holiday.
Feasting on large Thanksgiving dinners and on leftovers for the week to come. Turkey is the centerpiece of the meal, and it is usually baked or roasted. Some, however, now opt to smoke or deep-fat-fry instead. In-bird stuffing, homemade mashed potatoes with turkey gravy, corn on the cob, butternut squash, candied yams, green been casserole, cranberry sauce, and pumpkin pie are some of the most traditionally eaten foods.

Thanksgiving Day parades are held in some cities and towns on or around Thanksgiving Day. Some parades or festivities also mark the opening of the Christmas shopping season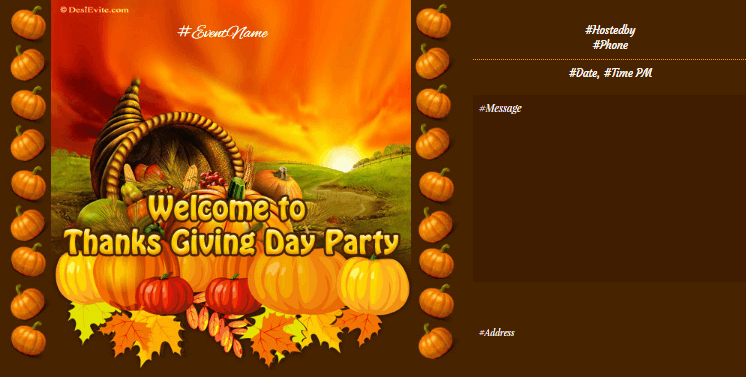 Posted By