Tuesday, January 10, 2017 | 8:03:00 AM
Republic Day
Republic Day in India is celebrated to commemorate the coming of its own constitution into force. it is celebrated every year in the national capital of India (New Delhi) at the Rajpath in the presence of the President of India. Mini celebrations are also take place in the state capitals in the presence of the governor of the state by spreading out the National Flag of the country.


An excellent parade and salute event is held by the military team at the Rajpath in front of the India Gate in the New Delhi, India.

Parade held in the New Delhi starts especially when prime minister of the India offer garland at the Amar Jawan Jyoti at the India Gate. It is done to commemorate all the sacrifices of the Indian army soldiers while saving their country. The military salute is taken by the President of India during the parade in the Capital whereas military salute is taken by the state governors in the state capitals. At this special day, a foreign head of the state become chief guest of the president.

National awards (Maha Veer Chakra, Ashok Chakra, Param Veer Chakra, Veer Chakra) and bravery medals are also distributed at this day to the soldiers of armed forces, common people and students from the school. A dance parade by singing patriotic songs is also performed by the school children. Armed Forces staff performs the motorcycle rides whereas the staff from the Indian Air Force perform fly parade through the fighter planes (making tri color of the Indian Flag by the smoke) for offering the honour salute to the president.

A range of traditional and cultural programs are performed by the professionals from different states to focus the history and culture of the country. During this grand celebration, a prime minister's rally and Lok Tarang-National Folk Dance Festival is also held from 24th of January to the 29th of January.


January 26 is declared as the holiday all over the country by the Government of India. All the Government and non Government offices of the nation and state including post offices, banks are closed at this day. It is celebrated throughout the India with great enthusiasm by the students and teachers in the schools, colleges, universities and other educational institution.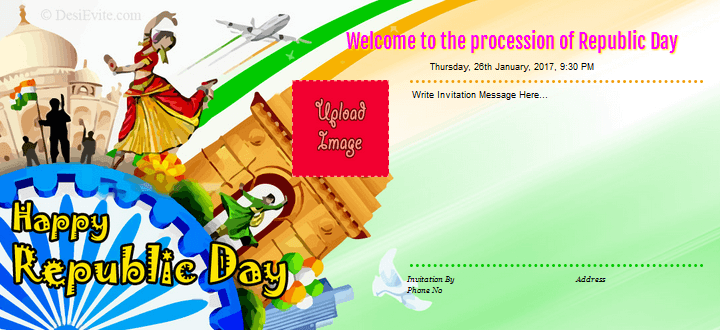 Posted By