Wednesday, January 4, 2017 | 2:03:00 PM
Pongal

Pongal is one of the most popular harvest festivals of South India, mainly in Tamil Nadu. It is a four- day long festival that falls in the month of 'Thai'( January- February) every year and marks the auspicious beginning of Uttarayan - the sun's journey northwards for a six-month period.

The festival gets its name from a Tamil word which means 'to boil' and is held during the season when rice, cereals, sugar-cane and turmeric are harvested. 'Ponga' literally means overflowing and is named so because of the tradition of cooking the new rice in pots until they overflow, which is symbolic of abundance and prosperity.

Thai Pongal is a harvest festival equivalent to a thanksgiving event celebrated by Tamils across the world. Pongal in Tamil means "boiling over or spill over."

Thai Pongal is celebrated on January 14th every year. The month of Thai (January) is the harvest season in the Thamil homeland spanning from Thamil Nadu to Thamil Eelam. Pongal refers to rice cooked in milk and sweetened with brown sugar (chakkarai, from which the English word jaggery is derived).

On a full scale it is a three-day festival of nature-worship. It includes feeding the birds that are part of the beauty of nature, and offering thanks to the cattle, Mattu Pongal, which gives milk and plough the fields. Jallikkattu is a peaceful sport involving bulls celebrated by young men as a part of 3-day Thai Pongal.

Pongal is celebrated by the Indian state of Tamil Nadu as well as Tamils worldwide, including those in Sri Lanka, Malaysia, Mauritius, South Africa, USA, Canada and Singapore. The festival is at least 1000 years old although some believe that the festival is more than 2000 years old.

Kolam decorations in front of house during Thai Pongal The moment the rice boils over and bubbles out of the vessel, the tradition is to shout of "Ponggalo Ponggal!" and blowing the sangu (a conch), a custom practiced during the festival to announce it was going to be a year blessed with good tidings.

For Tamils, it is considered a good sign to watch it boil over, since it means that good luck and prosperity is forthcoming. Then New boiled rice is offered to the Nature during sunrise, a gesture which symbolises thanks to the sun and nature for providing prosperity. It is later served to the people present in the house for the ceremony. People also prepare savories and sweets such as vadai, murrukku, payasam and visit each other and exchange greetings.

The third day, Maattu Pongal, is for offering thanks to cattle, as they help farmer in different ways for agriculture. On this day the cattle are decorated with paint, flowers and bells. They are allowed to roam free and fed sweet rice and sugar cane.

Some people decorate the horns with gold or other metalic covers. In some places, Jallikattu, or taming the wild bull contest, is the main event of this day and this is mostly seen in the villages.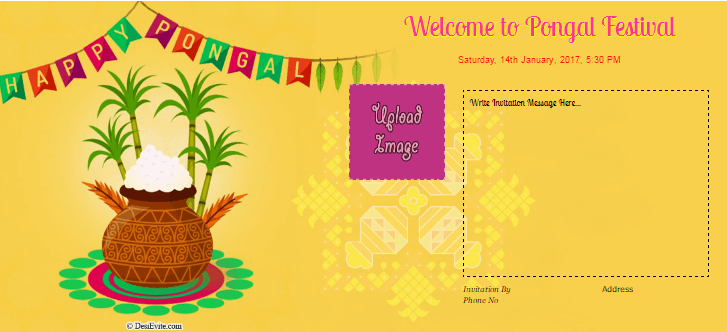 Posted By