Tuesday, January 12, 2016 | 8:39:00 AM
PONGAL – A festival to express gratidute towards Sun God
Pongal is a four day festival celebrated by Tamil people all over India.It's a time to thank Sun God to be gracious to mankind by providing the required energy for the agriculture.Its usually celebrated between 13th January to 17th January every year.This season is also known as harvest season. Hence, part of the celebration is the boiling of the first rice of the season and is consecrated to the Sun

Pongal Dish:

Rice and milk is cooked in the sunlight and dedicated to the Sun god. The cooking is done in a clay pot that is decorated with coloured patterns called kolam.The dish is served on banana leaves. This dish is known as Pongal.

4 day of the festival:

· Margazhi Kolam: Margazhi means time period between mid December to mid January. On this day people decorate their entrance and door posts with decorative items called Kolam. This is done to welcome auspicious Thai Pongal.

· Bhogi: This is the 2nd day of the festival when people discard all the old things from their house and burn it in fire. The people assemble at dawn in Tamil Nadu to light a bonfire in order to burn the discards. Also they clean and decorate the house to give it a festive look.

· Thai Pongal: This is the main event also known as Thai Pongal celebrated on the 2nd day. This day coincides with Makara Sankranthi, a winter harvest festival celebrated throughout India. In tamil language Pongal means "Overflowing".Hence the festival name is Pongal to depict that we will have overflowing or abundant harvest this year.

· Maatu Pongal: This is the event is celebrated after Thai Pongal.Tamil regards cattles as the source of their wealth.So on this day they decorate their cattles with garlands and show them due love and affection. On the same day all the sisters pray for their brothers' well being.

· Kaanum Pongal: This is the 4th day of the festival and also marking the end of Pongal festivities for the year.The word kaanum means " to visit". Hence people visit each others home with gifts and presents and have a nice get together.Hence the festival is ending with love and affection.

In 2016, Thai Pongal will be celebrated on 15th january.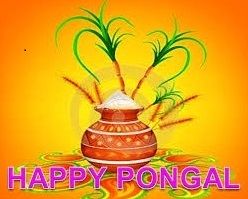 Posted By Beena