Tuesday, January 12, 2016 | 7:39:00 AM
Kite festival
Introduction:
Kite Festival is one of the biggest festival celebrated in Gujarat. It marks the day when winter ends and summer begins according to the Indian calender. Its also the start of harvest season thus giving pleasure to our dear farmers.Its known as Uttarayan in Gujarat. In 2012 , 42 countries participated in this International Kite event, hence Kite festival in Gujarat attempted to enter Guinness World Record.
History:
The history of Uttarayan/Kite fetsival is based on how evil was defeated. Sankarasur who was very cruel and killed many people was defeated by goddess Sankranti. This festival shows the awakening of many gods from their sleep.
Kite flying was consider as a sport by Nawabs and it was a royal sport that every king played. But then kite flying became well known even to the common man and hence people still fly kites.
Kite festival in 2016in Gujarat:
Gujarat CM Anandiben Patel inaugarated this International Kite Festival on 10th January 2015 and also thanked PM Narendra Modi for organizing such events to strengthen the love of people in Gujarat and bringing togetherness in them.
Many people in Gujarat make different styles of kites and put up stalls during this festival thus leading to more employment in Gujarat.Every kite is unique. Some kites have socail awareness messages written on them. People from different states and countries come to Ahmedabad to buy and have a look on these stalls of handicrafts,kites and also they enjoy Gujarati food.
Location:
Kite festival is celebrated in many parts of India like Gujarat, Rajasthan, Ahmedabad,Jaipur, Surat,Udaipur, etc.But International Kite event is held at Ahmedabad, which is known as Kite capital of Gujarat and the best place to enjoy this event is Sabarmati Riverfront in Ahmedabad.There is also a Kite Museum in Sanskar Kendra in Paldi in Ahmedabad.
Venue for Kite festival 2016:
Sabarmati Riverfront,
Ashram Road,
Ahmedabad 380066,
Gujarat,India
8 am to 5pm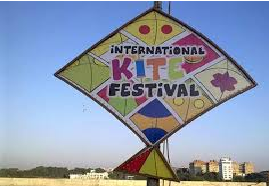 Posted By Beena