Monday, January 25, 2016 | 10:25:00 AM
Gudi Padwa
Gudi Padwa is the Hindu New Year in Marathi culture as per traditional lunar calendar followed in Maharashtra. Gudi Padwa in 2016 will be celebrated on 8th April. It is observed mainly in Maharashtra, Goa and parts of Karnataka. In Marathi it is known as "Gudi Padwa", in Telugu "Ugadi" and in Kanada "Yugadi" .
There are numerous reasons for observing Gudi Padwa - the most important legends are the defeat of Shakas by Shaliavahan and some people observe it to celebrate the victories of Chatrapati Shivaji Maharaj.
The Gudhi:
On Gudhi Padwa, a gudhi is found sticking out of a windowin traditional Maharashtrian households. Bright green or yellow cloth adorned with brocade (zari) tied to the tip of a long bamboo over which gaathi (sugar crystals), neem leaves, a twig of mango leaves and a garland of red flowers is tied. A silver or copper pot is placed in the inverted position over it. Altogether, it is called as Gudhi. It is hoisted outside the house, in a window, terrace or a high place so that everybody can see it.
Gudhi signifies following things:
1. It symbolizes the victory of King Shalivahana over Shakas.
2. Gudhi symbolizes Lord Rama's victory and happiness on returning to Ayodhya after slaying Ravana
3. Gudhi is believed to ward off evil, invite prosperity and good luck into the house.
Celebration:
On the festive day, courtyards in village houses will be swept clean and plastered with fresh cow-dung. Even in the city, people take the time out to do some spring cleaning. Women and children work on intricate rangoli designs on their doorsteps. Everyone dresses up in new clothes and it is a time for family gatherings.
Families are supposed to begin the festival by eating the bittersweet leaves of the neem tree. Sometimes, a paste of neem leaves is prepared and mixed with dhane, jaggery and tamarind. All the members of the family consume this paste, which is believed to purify the blood and strengthen the body's immune system against diseases.
Maharashtrian families also make shrikhand and Poori or Puran Poli on this day. Konkanis make Kanangachi Kheer, a variety of Kheer made of sweet potato, coconut milk, jaggery, rice flour, etc
Auspicious Day:
Gudi Padva is one of the most auspicious days in the Marathi Hindu Calendar and is considered ideal for starting new ventures and investment. It is believed that every moment on the Gudhi Padwa day is auspicious. The day also heralds the arrival of the spring season.
Farmers make it a point to plough the field on the Gudhi Padva day and they believe it will help in having a good harvest in the agricultural season.
This Gudi Padwa wish your near and dear ones by sending ecards and Invitations from www.desievite.com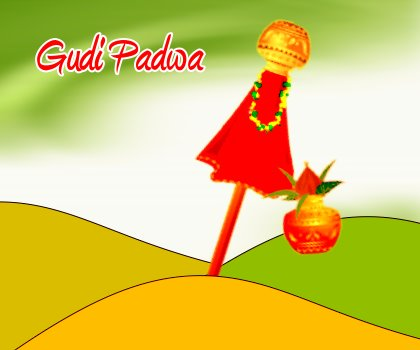 Posted By Beena