Tuesday, October 23, 2018 | 7:19:00 AM
Griha Pravesh invitation wording and Sample card
English
Mr. & Mrs. Kumar Invite you to Griha Pravesh.. On Sunday 3 October
With blessings of God and all the elders, we have been able to fulfill
our dream of moving into our own cozy little Home
On this occasion, we would like to share our joy with family & friends
and would like to invite you for the
Housewarming Ceremony.
CREATE AN INVITATION
The boxes are empty.
The curtains are hung,
But the doorbell's been quiet.
It's time it was rung!
Come on in
Same old mate in our new home
Marathi
CREATE AN INVITATION
स. न. वि. वि. आमच्या येथे श्री गणेशाच्या कृपेने, नवीन वास्तूची, वास्तुशांती आणि गणेश पूजन गुरुवार दिनांक ८ नोव्हेंबर रोजी करण्याचे योजिले आहे, तरी आपण सर्वांनी सहकुटुंब सहपरिवार उपस्थित रहावे हि विनंती…
Hindi
हम सभी को हमारे नए घर में जाने के लिए उत्साह है, मल्ली परिवार आपको गृह प्रवेश पूजा के लिए आमंत्रित कर रहा है, इसके बाद सत्यनारायण पूजा और विशाल पूजा है कृपया आओ और कार्यक्रम की शोभा बढ़ाओ।
Kannada
CREATE AN INVITATION
ಸ್. ನಂ. ವಿ. ವಿ. ಈ ವಿಷಯದ ಬಗ್ಗೆ ಶ್ಲಾಘನೆ, ನವೀನ್ ವಿಸ್ಟಾ, ವಾಸ್ತುಶಿಲ್ಪ ಮತ್ತು ಗಾಂಧೀಜಿಯ ಪೂಜೆ ಗುರುವಾರ ದಿನ 8 ನವೆಂಬರ್ ರಜೆ ಕರಾವಳಿ ದಿನಗಳಲ್ಲಿ, ನೀವು ನಿಮ್ಮ ಸರ್ವನ್ ಸಹಭಾಗಿತ್ವವನ್ನು ಸಬ್ಸಿರೈವರ್ಸ್ ಸುವರ್ಣವಾಗಿ ವಿತರಿಸಲಾಗುತ್ತದೆ ...
Gujarati
ઈશ્વર ની અસીમ ક્રૂપા થી તથા શ્રી વહાણવટી માતાજી અને વડીલોના આશીર્વાદ ના ફળ સ્વરૂપે અમે અમારા નવા સ્વપ્નોના નીવાશ સ્થાને પ્રભુતા ના પગલાં માંડવા જઇ રહ્યા છે. આ શુભ પ્રસંગે અમારા ઘર ના વસ્તુ પૂજા વિધિ માં પધારવા, આપ સહુને ભાવ ભીનું આમન્ત્રણ.
CREATE AN INVITATION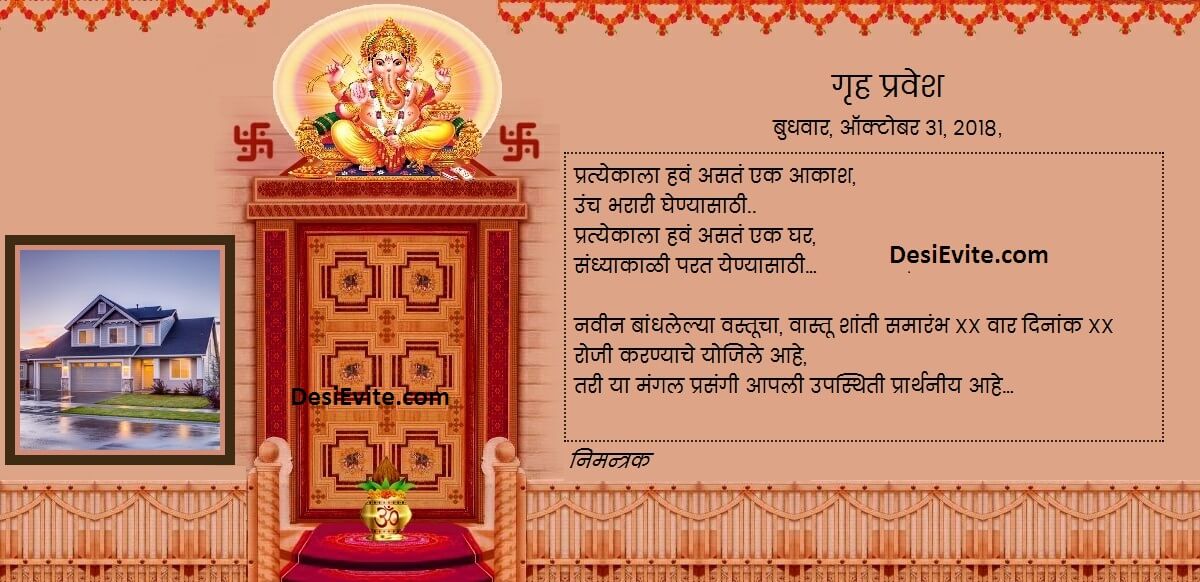 Posted By Desievite Admin