Friday, September 07, 2012 | 6:03:00 AM
Ganesh Chaturthi is a Hindus festival which marks the birth of Lord Ganesh. It is also known as Vinayaka Chaturthi. Ganesh was the son of Lord Shiva and Goddess Paravati. Lord Ganesh is also known as Lord of wisdom, prosperity and good fate.
Ganesh is a Sanskrit word which is made up of two word "gana" and "isha". "Gana" means a group and "isha" means lord. Lord Ganesh has an elephant head because of which he is also known as "Gajraj".
Ganesh Chaturthi is also known as Ganeshotsav. It is celebrated for ten day. In some regions it is celebrated for five, seven or nine days. During Ganesh Chaturthi large pandals are erected in which statue of Lord Ganesh is placed. These pandals are opened for the public from seventh or eighth day of this festival.
After five, six, seven or ten days idols are immersed in the sea or any other water body with huge procession accompanied with dancing, singing. This ceremony is known as Ganesh Visarjan.
This festival is popular in places like Maharashtra, Andhra Pradesh, Karnataka and Goa. Ganesh Chaturthi was being celebrated as a public event in Pune since the times of Shivaji. He was the founder of the Maratha Empire. After the fall of the Maratha Empire it lost it popularity. In 1893, Lokmanya Tilak transformed the annual domestic festival into a large, well-organized public event. The preparation of this festival begins two or three months before the date of occurrence.
Some of the famous sweets consumed during Ganesh Chaturthi are Modak. It is known as Lord Ganesha's favorite sweet. Majority of the people consume Modak at the time of Ganesh Chaturthi. Another sweet that is most famous is Motichoor ki ladhu.
Some of the famous Aarti songs which are sung at the time of Pooja are "Jai Ganesh Jai Ganesh Jai Ganesh Deva", "Om Jai Jagadish Hare" and "Sukh Karta Dukh Harta". Sukh Karta Dukh Harta is the most popular in Maharastra.
Ganesh Chaturthi is the time to thanking Lord Ganesh for whatever he has provided us for our living. If you are organising an event, you can invite the guests by sending them a Ganesh Chaturthi invitation. One of the best and effort less way to wish our dear ones is to send them an e-card. Desievite is the portal which has an excellent collection of Ganesh Chaturthi invitation and e-cards. In addition to that the process of sending invitation and e-cards is very simple. It is a matter of few clicks. Don't think a lot. Just visit www.desievite.com and send a Ganesh Chaturthi invitation or e-card today.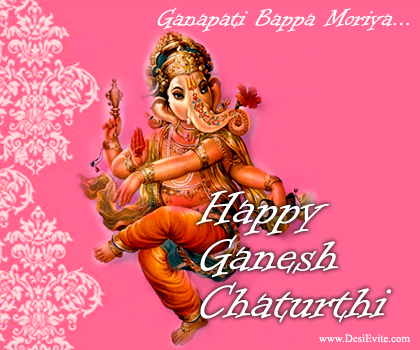 Posted By Desievite Admin