Sunday, September 23, 2012 | 4:47:00 AM
"The principle of majority does not work when differences on fundamentals are involved."
Gandhi Jayanti or Mahatma Gandhi Jayanti commemorates the birth of Mohandas Karamchand Gandhi. It is celebrated on 2nd October every year because he was born on this day in Porbandar Gujarat, India. He was son of Putlibai Gandhi (Mother) and Karamchand Gandhi (Father). He is also known as Father of Nation in India. He is still famous for his non-violence or satyagraha which constituted to a great degree in Indian independence. In India he was also called Bapu ("Father").
He was born in a small coastal town Porbandar in Gujarat, Gandhi married Kasturbai Makhanji at the age of 13. Gandhi at the age of 18 went to England to study law and returned to India in 1915. After he returned home he got involved in Indian Independence movement and played a vital role. He is still known for Dandi March Salt in 1930 and later the most popular Quit India movement which forced the British to leave India in 1942.
He wrote his autobiography in the book named "My experiments with Truth" which reveals many facts about his childhood. He was married to Kasturba Gandhi at the tender age of 13. He lived a simple life and wore the traditional Indian dhoti and shawl. He also used to spin a charkha to get yarn.

In United Nations it is observed as International Day of non-violence. In India a public holiday is declared on Gandhi Jayanti. All the institution like schools, colleges, banks remain close on this day. To tribute this great soul, the Indian government mint rupee notes and also issue postage stamp depicting Mahatma Gandhi's photo.
He died on 30 January 1948. At this time he was seventy eight (78). He was assassinated by a person named NathuRam Godse.
Mahatma Gandhi's life and principles has inspired many people. He was an architect of Indian Independence. His teachings must be used to resolve current conflicts, avoid violence, to find peaceful solutions and to make our world a better place to live.
One of the most popular songs which is sung on this day is:
Raghupati Raghav Raja Ram, Patit Pavan Sita Ram
Sita Ram Sita Ram, Bhaj pyare tu Sitaram
Ishwar Allah tero naam, Sab ko Sanmti de Bhagawan..........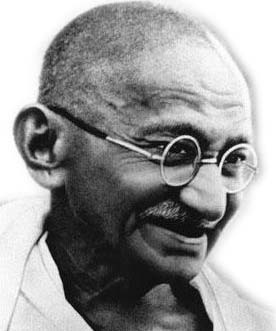 Posted By Desievite Admin