Friday, October 05, 2012 | 7:04:00 AM
Boss Day also known as National Boss day is the perfect time to say thank you to our bosses. It is a time for many workers to appreciate their bosses for their love and support in their professional journey. It is observed on 16th of October every year. On Boss Day employees show their gratitude by presenting gifts such as cards, sweets and flowers to their bosses.
The concept of National Boss Day began in 1958 when Patricia Bays Haroski, then an employee at State Farm Insurance Company in Deerfield, Illinois, registered the holiday with the United States Chamber of Commerce. She designated October 16 as the special day because it was her father's birthday. Haroski's purpose was to designate a day to show appreciation for her boss and other bosses. She also hoped to improve the relationship between employees and supervisors.
Boss Day is not just about thanking your boss. It is about improving the bonding between you and your boss. If you had any dispute with your boss in the past you can clear that on this day. You get a chance to know your boss a little better on this day. You can ask him for tips to improve your current working style. You can make a huge impression on your boss on this day. You can also surprise your boss on this special occasion.
Boss Day is the time of thanking our bosses for whatever favours he has done in our career. One of the best and effort less is to send them a thank you e-card. We also have nice collection of e-cards on boss day. You can also send your boss a sweetest day e-card also which is just after Boss day. Desievite is the portal which has an excellent collection of invitation and e-cards. In addition to that the process of sending invitation and e-cards is very simple. It is a matter of few clicks. Don't think a lot. Just visit www.desievite.com and send an e-card today.
The portal provides unique features which gives you flexibility. It keeps you updated about the latest events so that you never miss an important occasion. It thinks that invitation and e-cards are not just digital media. These are the medium which allows people to communicate. These are the medium to spread love, peace and harmony all around the world.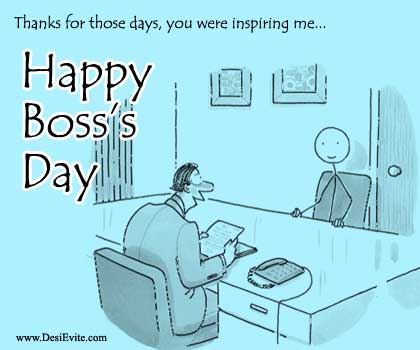 Posted By Desievite Admin