Monday, November 21, 2016 | 7:10:00 AM
Bikaner camel festival
Bikaner camel festival Camel Fair, Bikaner is a sought after event in Rajasthan. Organized by the Department of Tourism, Art and Culture, Bikaner Camel Festival is a yearly event in January that Bikaner celebrates in honor of the ship of the desert, Camel. The festivities are at par with the other celebrations of Rajasthan. The event mainly includes spectacular camel performances like camel dances, camel races, neck shaking camel rides etc.
The Camel Festival in Bikaner is a two day affair. The festivities starts off with a colorful parade of beautifully adorned camels against the backdrop of majestic Junagarh Fort. Enjoy the spectacular displays of camels dressed in vibrant bridles, traditional necklace and heavy anklets showing off wonderful footwork to the lovely tunes on desert sands. Also witness the array of camel race events, camel games and other cultural performances. Hundreds and thousands of tourists and locals revel in this traditional festival. Feel absolute pleasure in the delightful ambiance. Though the festival is exclusively organized to glorify the camels, the traditional Rajasthani folk dance performances and music add largely to the charm of this festival. The fascinating Fire Dance adds glamour to the festivities.
The ambiance of the fair inspires fire dancers to perform brilliant acts. Their skills and the shows are nothing short of spectacular. The melodies of folk music is a soothing sensation that world its charm mesmerizing all those whole hear it. The puppet shows are also amazing. The colorful attired puppet dolls narrate intriguing local folklores. The festival concludes with a spectacular firework display which illuminates the skies of Bikaner.
The Bikaner Camel Fair gives you an opportunity to indulge into the unique camel milk sweetmeats and camel milk tea. The local Rajasthani dishes appetizes all the food lovers. Check out the stalls in the markets which offer exquisite handicrafts, jewelry, pottery and rare delights.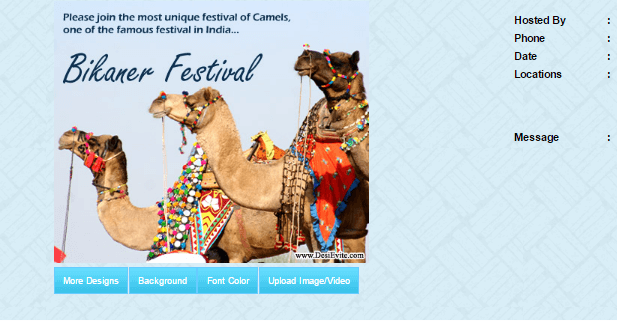 Posted By