Wednesday, April 19, 2017 | 7:52:00 AM
Akshay trutiya
Akshaya Tritiya is a very popular festival that the Hindus and Jains celebrate every year. It is considered as one of the most important days for Hindu community as it is the day of the birth of the Lord Parasurama.
The Hindu community considers this day as a lucky day and believes that any venture such as a business or the construction of a building started on that day will follow betterment and prosperity. Akshaya Tritiya is a one day event celebrated in late April or early May. Hindus celebrate this day because, according to them, Akshaya Tritiya is the day when the great God of Wisdom, God Ganesha, started writing the epic work called "Mahabharata". It is believed that when the Pandavas were in exile the Lord presented them a bowl which was named Akshaya Tritiya.
That bowl was never empty and produces an unlimited amount of food on demand.

According to Hindu mythology, on this day the Treta Yuga began and the river Ganges, the most sacred river of India, descended to the earth from the heaven.

Mythologically speaking, Kubera, the treasurer in Heaven received his wealth on this day from Siva. It is on this day Lord Siva blessed Goddess Lakshmi with wealth. In fact Lord Siva made
Kubera as Lord of wealth and Lakshmi as Goddess of wealth.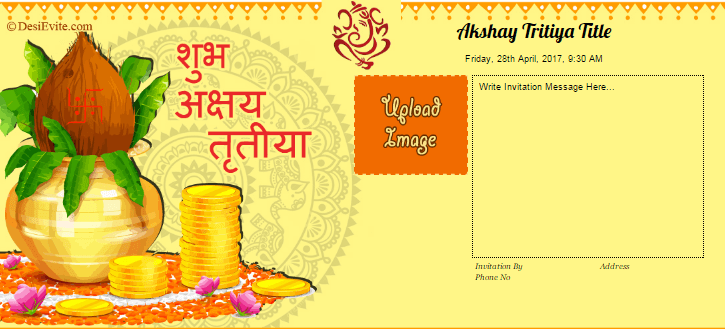 Posted By