Friday, July 15, 2022 | 1:36:00 AM
Your Griha Parvesh invitation message should include the following points


Start invitation with Gods name
You can start an invitation with lord ganesha name or your kul devta, kula-deva, kul devi or ishtadevta name. You can also start with your guru's blessings.
Sample
Om Shree Ganeshay Namah
|| श्री गणेशाय नमः ||
ஸ்ரீ கணேஷய நமஹா
శ్రీ గణేశయ నమః :: స్వామియే శరణం అయ్యప్ప :: సాయి రామ్ :
ಶ್ರೀ ಗಣೇಶಯ ನಮಹಾ
Lord Ganesha is the Hindu God (Deity) who is believed to be the Lord of new beginnings therefore, he is worshipped at the start of all Hindu religious ceremonies. Kula-deva means family deity or patron gods and goddesses of the family.
Write the main message
Sample / example
Griha pravesh message in english
With blessings of God and all the elders, we have been able to fulfill our dream of moving into our own cozy little Home. On this occasion, we would like to share our joy with family & friends and would like to invite you for the 👣 Housewarming Ceremony 👣
Griha pravesh message in hindi
आपको यह जानकर अति प्रसन्नता होगी कि हमारे नए मकान का गृह प्रवेश समारोह सोमवार दिनांक 11 दिसंबर 2020 को प्रातः 10:00 बजे संपन्न होगा। आप इस शुभ अवसर पर आप सपरिवार सादर आमंत्रित हैं आशा है कि आप इस आयोजन में सम्मिलित होकर हमें कृतार्थ करेंगे।
Griha pravesh message in marathi
स. न. वि. वि. आमच्या येथे श्री गणेशाच्या कृपेने, नवीन वास्तूची, वास्तुशांती आणि गणेश पूजन
गुरुवार दिनांक ८ नोव्हेंबर रोजी करण्याचे योजिले आहे, तरी आपण सर्वांनी सहकुटुंब सहपरिवार उपस्थित रहावे हि विनंती…
Griha pravesh message in tamil
அன்புடையீர்,
***** & **** எங்களின் புதிய இல்லத்தின்
கட்டுமானம் நிறைவு பெட்று புதுமனை புகுவிழா நடக்கவிருப்பதை மகிழ்ச்சியுடன் தெரிவித்துக் கொள்கிறோம்.மேலும், தாங்கள் மற்றும் தங்களின் குடும்பமும் வருகை தந்து வாழ்த்தியருள அன்புடன் அழைக்கின்றோம்.
Griha pravesh message in Telugu
మేము నూతన గృహప్రవేశం చేయుచున్నాము. తేదీ.13.8.2020 గురువారం ఉదయం సత్యనారాయణ వ్రతము, మధ్యాహ్నం విందు. మీరు మీ కుటుంబ సభ్యులతో మా ఇంటికి విచ్చేసి మా ఆతిధ్యం స్వీకరించ ప్రార్ధన.
Mention Program details
Gruhapravesam vidhi or Vastu pooja details and timing, and don't forget to mention lunch or prasad timing 😉.
New home address
Mention new home address with google map link if possible.
Inviter Details
At end you can mention inviter details..
❉ Invited By / RSVP ❉
❉ विनीत ❉
Griha Pravesh Sample ecard
Griha pravesh ecard sample in hindi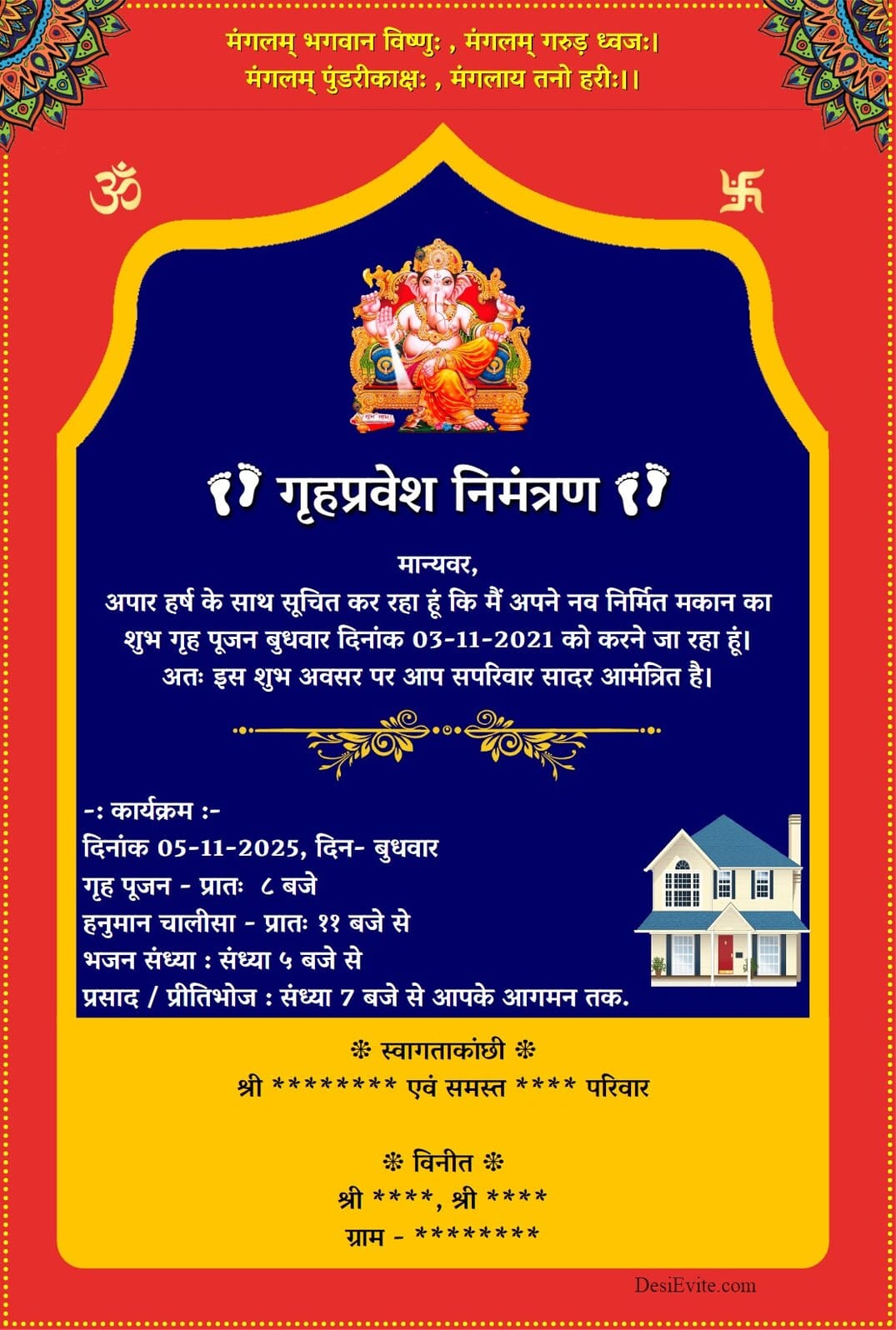 Griha pravesh ecard sample in english
Griha pravesh ecard sample free without watermark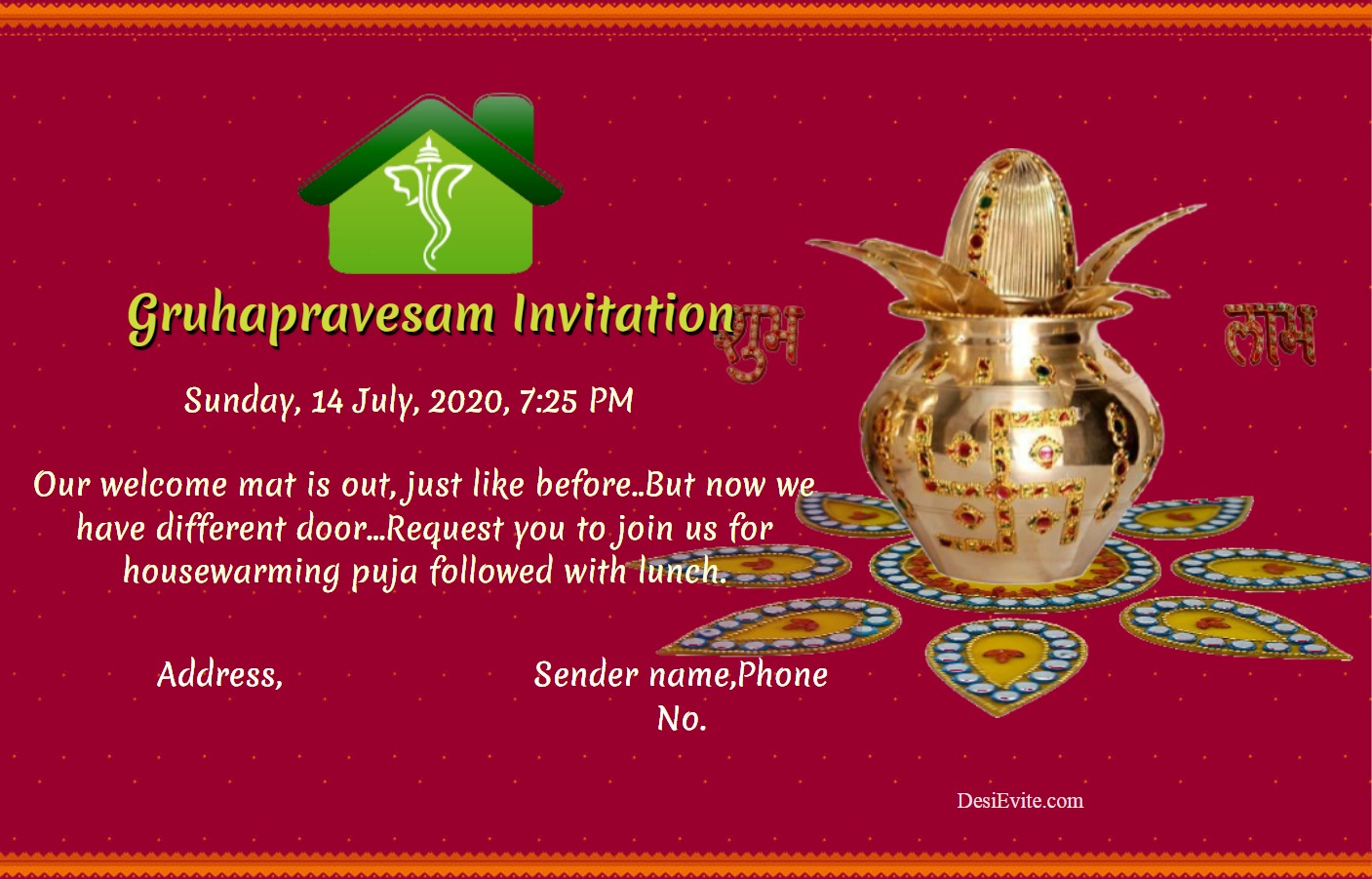 Posted By Desievite Admin