Friday, February 26, 2016 | 7:40:00 AM
Wedding
Wedding is a ceremony where 2 people are united in marriage. It is the most honorable relationship among all. However, the tradition of wedding vary from culture to culture, religion to religion, etc. In most of the wedding vows are exchanges, rings are exchanged and mostly gold gifts are exchanged between the bride and the groom. The vows taken by the couples are to make their relation intact and that they will in all times remain together. These vows are taken in the presence of the society so that they become the witness of this union.

Wedding customs:

Pre- wedding customs/functions: Almost in all the cutures and religion, engagement ceremony takes place before wedding ceremony where the would be couple exchange gold rings.Significance of gold ring is gold speaks of purity of the relation and round shape speaks of the never ending relationship. Many of the hindu weddings have some customs or traditions to be fulfiiled before wedding like sangeet, mehndi rasam, haldi rasam etc. In the western culture people organize bachelor's party before wedding so as to celebrate their singlehood for the last time. All these functions are followed by lunch or dinner. Even before all these, the wedding cards are distributed amongst friends and relatives so as to invite them to the wedding. In this century people also send e-invitations so as to save time and paper.


Post- wedding customs/functions: After wedding ceremony people organize for wedding reception or lunch in the afternoon where all the friends and relatives who are invite have food and enjoy themselves.In many western countries the newly wedded couple perform couple dance and many others accompany them. In hindu religion, the couple is called for lunch by the girl's parents. This is known as pag phera rasam.


Wedding costumes:

• Cheongsam or Hanfu, Chinese traditional formal wear
• Batik and Kebaya, a garment worn by the Javanese people of Indonesia and also by the Malay people of Malaysia
• Hanbok, the traditional garment of Korea
• Barong Tagalog, an embroidered, formal men's garment of the Philippines
• Kimono, the traditional garments of Japan
• Sari/Lehenga, Indian popular and traditional dress in India
• Dhoti, male garment in South India
• Dashiki, the traditional West African wedding attire
• Ao dai, traditional garments of Vietnam
• Ribbon shirt, often worn by American Indian men on auspicious occasions, such as weddings, another common custom is to wrap bride and groom in a blanket
• Kilt, male garment particular to Scottish culture[5][6][7]
• Kittel, a white robe worn by the groom at an Orthodox Jewish wedding. The kittel is worn only under the Chupah, and is removed before the reception.
• Topor, a type of conical headgear traditionally worn by grooms as part of the Bengali Hindu wedding ceremony
• Western code
• Sherwani, a long coat-like garment worn in South Asia
• Wedding crown, worn by Syrian and Greek couples (which are called "τα στέφανα," which literally means "wreaths") and Scandinavian brides
• Wedding veil
• Wedding dress
• Langa oni, traditional two piece garment worn by unmarried Telugu Hindu women.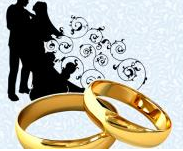 Posted By Beena