Tuesday, November 6, 2018 | 4:05:00 AM
Satyanarayan Puja Invitation Wording and Sample Card
English
» We would like to share our joy with family and friends
Please grace us with your presence and blessings
We solicit your gracious presence to share our joy
And happiness on the occasion of Satyanarayana Puja.

» We cordially invite you to grace the occasion of Sri Satyanarayana Swami Vratham on 04/17/2016 at our house.
Puja will be followed with lunch.

Hindi
सोमवार, 16 जुलाई 2018 को मेरे नए निवास पर सत्यनारायण पूजा का आयोजन किया है.
आप सभी सादर आमंत्रित हैं,
कृपया इस पावन अवसर पर आकर तीर्थ प्रसाद् का लाभ उठाना

Marathi
» स्वप्न एका नव्या वास्तूचे, साकार झाले आपल्या आशीर्वादाने,
कार्य नूतन गृहाचे वास्तुशांतीचे, योजिले श्री कुलदेवतेच्या कृपेने,
तोरण या वास्तूवर चढावे, आपणा सर्वांच्या साक्षीने,
रंगत या कार्याची वाढावी तुमच्या आनंददायी सहवासाने…
आमच्या येथे सत्यनारायण महापूजा करण्याचे योजिले आहे,
तरी आपण सर्वांनी सहकुटुंब सहपरिवार उपस्थित रहावे हि विनंती…

» आपणास् कळविण्यात आनंद होत् आहे कि श्री सत्यनारायणाची महापूजा आयोजित कारण्यायत आली आहे ,
तरी आपण सहपरिवार सहकुटुंब उपस्तित् राहून तीर्थप्रसादाचा लाभ घ्यावा ही विनंती

Tamil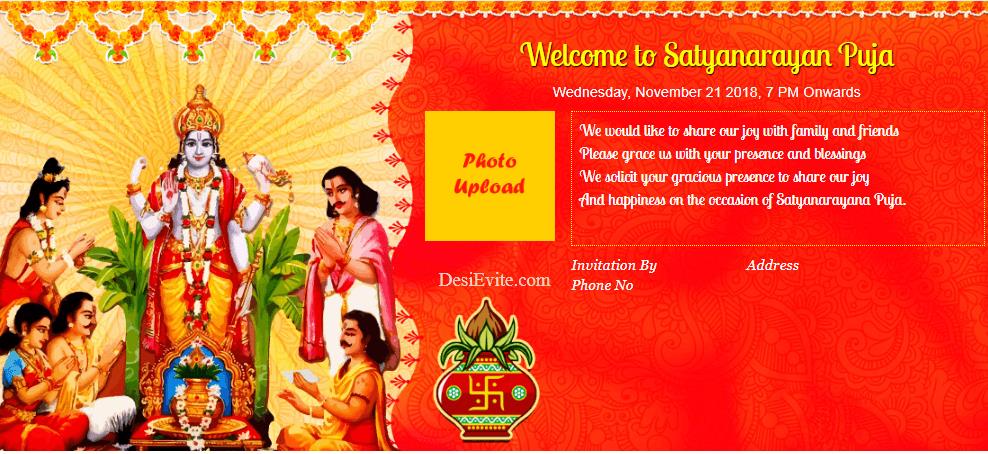 Posted By Desievite Admin