Thursday, March 10, 2016 | 6:42:00 AM
Indian Wedding functions

Pre-wedding:

1. Roka: This occurs before wedding date is set. This ceremony is to set a formal commitment of both the families towards the marriage. The wedding date is fixed after the Roka Ceremony.

2. Engagement: In this ceremony the girl and the boy exchange rings. This shows that the girl and boy are now committed to each other in this relationship. Both the families exchange jewelry, clothes and gifts.

3. Mehendi: On this day, henna designs are painted on the hands and feet of the bride to-be. Mehendi is a symbol of good luck. It is believed that more the color of the mehendi is darker, more love she will get from her would be husband


4. Sangeet: Sangeet is the most enthusiastic ceremony. It involved lot of music, dance and fun. People also name it as DJ party now a day. Some people organize sangeet on the day of mehendi party whereas others like to celebrate on the other day.
For the pre wedding functions, we have below vendors who will help you to make your event wonderful: (http://www.desievite.com/resource-directory/Wedding/)

• Wedding party halls
• Mehendi artist
• Catering services
• DJ and music
• Boutique
• Gift shop
• Cakes and confectionaries and many more
Marriage:
The main day wedding ceremonies 'Varmala, Havan and Kanyadaan' often take place at the bride's place or in an area that is big enough to accommodate all the family members, friends and relatives of the bride and the groom. A special canopy is decorated with flowers and other items. This canopy is known as the Mandapa and it is here that the bride and the groom get married. One of the most important main day wedding ceremonies is the 'saat –phere' or seven steps together. In this practice, the bride and the groom encircle the holy fire - symbol of God, seven times and take vows of love, commitment, honesty, etc.
For the wedding functions, we have below vendors who will help you to make your event wonderfull: (http://www.desievite.com/resource-directory/Wedding/)

• Wedding party halls
• Catering services
• DJ and music
• Boutique
• Gift shop
• Cakes and confectionaries and many more
• Jewelry shops




Post wedding:
1. Reception: Reception is all about eating and celebrating with the new couple. The first public appearance of the couple after wedding is on reception. All the friends and relatives, who are invited for reception, come and give their wishes, blessings and gifts to the newly wedded couple. Some people organize reception on the same day or the next day.

2. Pag phera: Pag phera is a ritual where the bride's family invites the newly wedded couple for lunch or dinner, on the 3rd day of the marriage.


For the post wedding functions, we have below vendors who will help you to make your event wonderfull: (http://www.desievite.com/resource-directory/Wedding/)

• Wedding party halls
• Catering services
• DJ and music
• Cakes and confectionaries and many more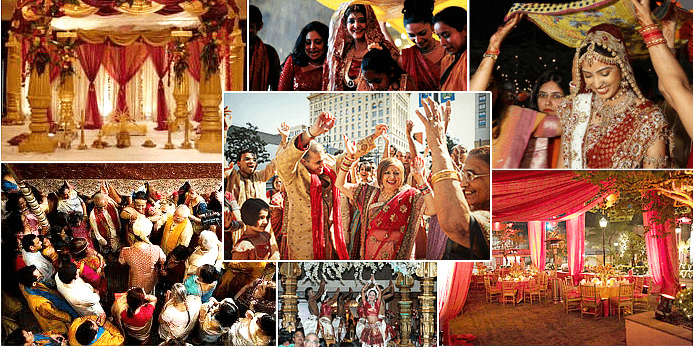 Posted By Beena