Tuesday, February 21, 2017 | 12:12:00 PM
Holi
The colorful festival of Holi is celebrated on Phalgun Purnima which comes in February end or early March.

Holi celebrations start on the night before Holi with a Holika bonfire where people gather, do religious rituals in front of the bonfire, and pray that their internal evil should be destroyed as the bonfire starts. The next morning is celebrated as Rangwali Holi - a free-for-all carnival of colours,[9] where participants play, chase and colour each other with dry powder and coloured water, with some carrying water guns and coloured water-filled balloons for their water fight. Anyone and everyone is fair game, friend or stranger, rich or poor, man or woman, children and elders.

The frolic and fight with colours occurs in the open streets, open parks, outside temples and buildings. Groups carry drums and other musical instruments, go from place to place, sing and dance. People visit family, friends and foes to throw coloured powders on each other, laugh and gossip, then share Holi delicacies, food and drinks. Some drinks are intoxicating. For example, bhang, an intoxicating ingredient made from cannabis leaves, is mixed into drinks and sweets and consumed by many.[16][17] In the evening, after sobering up, people dress up and visit friends and family

A Hindu festival, Holi has various legends associated with it. The foremost is the legend of demon King Hiranyakashyap who demanded everybody in his kingdom to worship him but his pious son, Prahlad became a devotee of Lord Vishnu. Hiranyakashyap wanted his son to be killed. He asked his sister Holika to enter a blazing fire with Prahlad in her lap as Holika had a boon which made he immune to fire. Story goes that Prahlad was saved by lord himself for his extreme devotion and evil minded Holika was burnt to ashes, for her boon worked only when she entered the fire alone.

Since that time, people light a bonfire, called Holika on the eve of Holi festival and celebrate the victory of good over evil and also the triumph of devotion to god.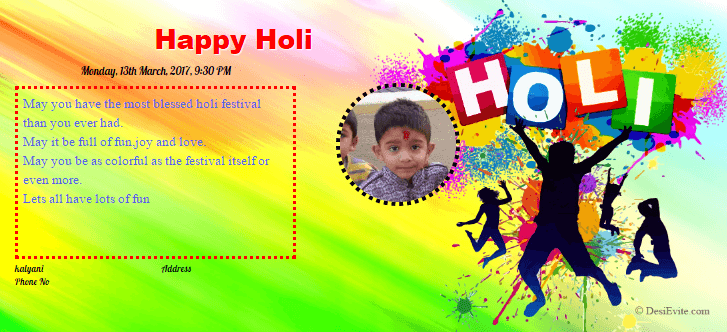 Posted By