Monday, February 1, 2016 | 8:34:00 AM
Holi-Festival of Colors
Holi is a Hindu festival.It is also known as festival of colors.This is the festival which fills our lives with different colors and joy.Holi is a spring festival. In recent years, the festival has also spread to other parts of the world like North America, South Asia. It is celebrated at the end of winter, on the last full moon day of the lunar month Phalgun (February/March), (Phalgun Purnima), which usually falls in March, sometimes in late February.
Significance:
Holika was the daughter of evil king Hiranyakashipu. The king was very cruel and egoistic. He wanted that all the people should worship only him and bow down before him.The king's son Prahlada was a devotee of Lord Krishna. Prahlada only worshipped Krishna hence refused to worship his father Hiranyakashipu. This made the king very angry and out of his fury he planned to kill his own son Prahlada. Holika had been granted a boon that gave her the power to remain unaffected by fire. To lure Prahlada into a fire, Holika sat him on her lap and pretended to play with him while Hiranyakashipu ordered his men to set the place where they sat on fire. This time Holika's boon failed. In her evil desire to kill Prahlada, Holika was burnt to ashes while Prahlada came out safe. It signifies the burning of every evil and enlightening the good in us.
Another reason why Holi is significant is its association with Raasleela, the Divine Dance that Lord Krishna performed for the gopis , his devotees in Vrindavan on this day.
Celebration:
The night before Holi,people lit the bonfire in a ceremony known as Holika Dahan (burning of Holika). People gather near fires, sing and dance. The next day, Holi, also known as Dhuli in Sanskrit, or Dhulheti, Dhulandi or Dhulendi, is celebrated. Children and youth play with color powder mixed with water and enjoy while adults only smear dry color powders on each others faces.After playing with colors, people take bath and wear new clothes and then visit friends and relatives homes. People welcome the guests by smearing colors on their face and then offering them Holi sweets. People also organize Holi parties to paly and enjoy wid their loved ones. People also try to make natural and eco friendly colors so as to avoid mixture of chemicals thus leading toskin reaction and many other health related problems.
This holi wish and invite your friends using ecards and e-invitation from our website www.desievite.com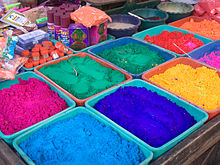 Posted By Beena