Tuesday, February 23, 2016 | 10:04:00 AM
Hanuman Jayanti
Hanuman jayanti celebrates the birth of Hanuman. Hanuman was a devotee of Lord Ram. Hanuman is worshipped for his loyal service and devotion to lord Ram. Hanuman jayanti is an important festival of Hindus. The event is celebrated on the 15th day of the Shukla Paksha, during the month of Chaitra (the Chaitra Pournimaa).Hanuman is the symbol of strength and energy. It is said that hanuman has done many marvelous deeds like moving the mountain, seizing the cloud, etc. He is worshipped as a deity with magical powers and the ability to conquer evil spirits.
From early morning, devotees flock Hanuman temples to worship him. The devotees visit temples and apply tilaka of sindoor to their foreheads from Hanuman's idol as Hanuman himself was of that color. A few thousand years before Ramayan time, several divine souls came to Earth and modified the bodies of ape like creatures through evolutionary methods so that the animals could play the role of vehicles for these divine souls. That's how the Vanara race with reddish orange color (hues of deep orange and light red) was established before the Ramayan.
On this day, in a Hanuman temple spiritual discourses are started at dawn. Hanuman was born at sunrise. At that time the spiritual discourse is stopped and the offering of food (Prasad) is distributed to everyone. Spiritual discourses are organized in most of the Hindu temples on this day. Hanuman was the most powerful in the three people the Heaven people, the Hell people, and the Land people. All these Gods had blessed him when he was just a 1/2-year-old child.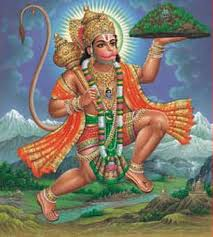 Posted By Beena