Friday, June 30, 2017 | 6:47:00 AM


The full moon day in the Hindu month of Ashad (July-August) is observed as the auspicious day of Guru Purnima, a day sacred to the memory of the great sage Maharshi Veda Vyasa.

All Hindus are indebted to this ancient saint who edited the four Vedas, wrote the 18 Puranas, Mahabharata, and the Srimad Bhagavatam. Vyasa even taught Dattatreya, who is regarded as the Guru of Gurus.

On this day, all spiritual aspirants and devotees worship Vyasa in honor of his divine personage and all disciples perform a 'puja' of their respective spiritual preceptor or 'Gurudevs'.

The period 'Chaturmas' ("four months") begins from this day. In the past, wandering spiritual masters and their disciples used to settle down at a place to study and discourse on the Brahma Sutras composed by Vyasa, and engage themselves in Vedantic discussions.

This day is very important for the students and the teachers (both spiritual and academic). Hindus dedicate this day to Sage Vyasa. Buddhists dedicate this day to Lord Buddha.

A Guru (teacher) plays an important role in moulding the life of a student. The Indian tradition widely accepts the positive influence of Guru (teacher) in a student's life. A teacher is considered to remove darkness (ignorance) from a student's life. A blessed student is one who has received the blessing of his guru.

Celebration also includes Guru Puja in many places. The life and teachings of holy masters are recalled. Students are encouraged to follow the teachings of spiritual gurus.

Students express their gratitude by thanking their teachers. Guru Purnima is also celebrated in many schools, colleges, and universities.

Guru Purnima is basically a way by which students show their love and gratitude towards their Guru or the teacher. The festival is celebrated according to the Hindu calendar which is on the first full moon day of Asadh or according to the English calendar, the month of July.

There are many schools that celebrate this festival in the traditional way by washing the feet of the Gurus which in Hindu terms is called as "Padapuja". After that there are many programs organized by the disciples which include classical songs, dance, havans, kirtans and the Giya recitation. Various gifts in the form of flowers and "Uttariya" (a kind of stole) is given to the Gurus.

The Buddhists on the other hand celebrate this day to honor their leader Lord Buddha who delivered his first Sermon on this day at Saranath after having migrated from Bodhgaya with 5 of his disciples. They meditate on this day and read the teachings of Lord Buddha. They also observe "upostha" which is a Buddhists tradition followed on this day.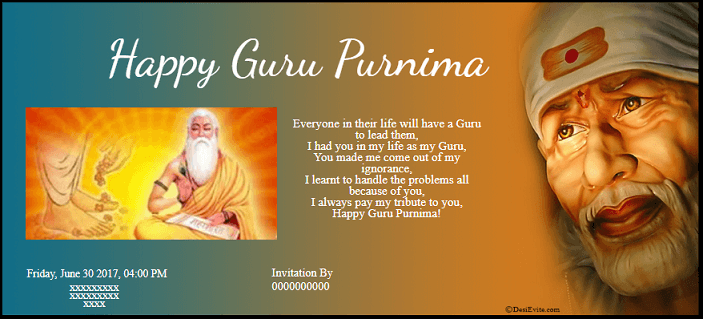 Posted By