Wednesday, October 7, 2015 | 4:22:00 AM
GOLU of Navaratri – The Southern India Festival
Navaratri meaning nine nights of a year is all about observing this festival by understanding the roots the Hindu origin and improving ones' inward self. Navaratri is a great reasonable tool of giving us the opportunity to dedicate just nine nights to do nine small 'steps' or 'golu' in our inner quest. Navarathri starts after the new moon day in September October months. That New moon day is good for doing "Ancestral" worship). On this very day, the Golu (kolu) steps are arranged with wooden planks or packing boxes having 9 steps. The next day, Lord Ganesh is worshipped with the realisation that the commencing festival will help people in raising up their respective awareness. Thereafter, the dolls are arranged in a definite way on the steps to inaugurate the festival.
Golu (Malayalam), Kolu (Tamil), Habba (Kannada), Koluvu (Telugu) is a doll and sculpture display centenary celebrated at the time of Navratri symbolising Southern India Navaratri festivities, it is very prominent in the states of Tamil Nadu, Karnataka, Andhra Pradesh and Kerala, as well as in among the Tamil communities of the country of Sri Lanka.
Golu is a half pyramid with the dolls shows first half in the distinctive format exhibition and at the same realm, the invisible half as the unrevealing aspect of the Cosmos.
Golu is adorned with dolls - predominantly with that of the Gods and Goddesses depicting the creation of this Universe.
Nine steps representing the Navagrahas or the nine modes of appearance of the cosmos is done. According to it, it is the pure Consciousness that manifest in the form of this universe.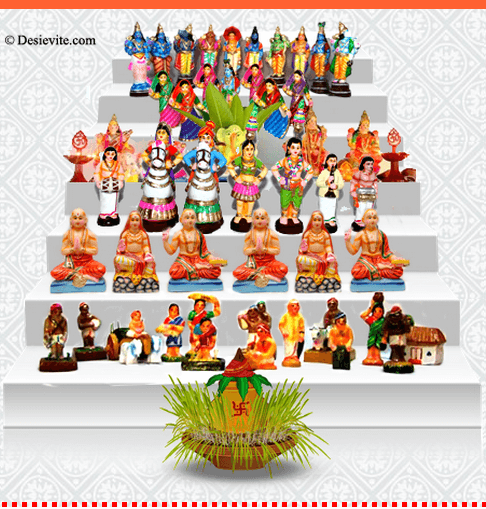 Posted By