Friday, September 23, 2016 | 2:03:00 PM
DurgaPuja
Durga Puja also known as Durgotsab is an annual Hindu festival which celebrates worship of the Hindu goddess of power, Durga or Shakti. It is a nine days affair in which last six days are observed with complex rituals and intricate ceremonies as Mahalaya, Shashthi, Maha Saptami, Maha Ashtami, Maha Nabami and Bijoya Dashami.
The dates of Durga Puja celebrations are decided according to traditional Hindu calendar and generally fall between the months of September to November according to the calendar. It is extensively celebrated in the Northern and Eastern states of India- West Bengal, Bihar, Jharkhand, Orissa and Tripura. Apart from these places states like Delhi, Maharashtra, Gujarat, Punjab, Kashmir, Karnataka and Kerala also enthusiastically participate in the festival

The Idols of Durga and her children is obviously the most important part of the grand event. Durga in her full avatar appears stabbing Mahishaura's torso while riding the Lion. To her left stand Saraswati and Karthika and to her right, you will find Lakshmi, Ganesha, and Ganesha's two wives in the form of two banana trunks. There would also be an image of Shiva above Durga. The whole structure or frame is called a Chala.

Dashami, a word that fills every Bengali heart with sadness, is the last day of Durga Puja. On this day, married women gather at the Puja pandals and smear each other with sindur (vermillion) much like playing with colours in Holi. This ritual marks the farewell of Goddess Durga.

The streets of Kolkata change on the last day of Durga Puja. Thousands of processions, millions of people throng the roads. Goddess Durga bids adieu to her family and sets off for the Himalayas. The idols are immersed into the river, heads first. A ritual of family reunion takes place following the immersion. Every Bengali household hosts gatherings and exchange sweets and gifts with their loved ones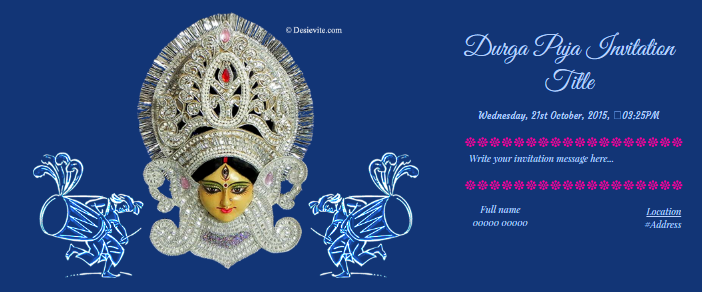 Posted By