Tuesday, September 20, 2016 | 2:28:00 PM
Dhanteras
Among the most cherished festivals celebrated in India, Diwali is by far the most glamorous and important. its magical and radiant touch creates an atmosphere of joy and festivity all around. The festival is celebrated for Five Continous Days.

The First Day of celebration- Dhanteras

The first day of Deepawali is called Dhanvantari Triodasi. It is al also known as Dhan Theras. Dhan means "wealth" and Trayodashi means "13th day".
At this great occasion people decorate house interiorly and exteriorly, make Rangolis, light clay diyas and many more traditions to follow.
After sunset, people offer puja to the Goddess Lakshmi and Lord Ganesh to prosperity, wisdom and well being.

Dhanteras holds special significance for the business community due to the customary purchases of precious metals on this day. Lord Kubera, the God of assets and wealth is also worshipped on this day.

On Dhanteras Hindus consider it auspicious to purchase gold or silver articles or at least one or two new utensils. It is believed that new "Dhan" or some form of precious metal is a sign of good luck.

Another legend says, in the cosmic battle between the gods and the demons when both churned the ocean for 'amrit' or divine nectar, Dhanavantri – the physician of the gods and an incarnation of Vishnu – emerged carrying a pot of the elixir. So, according to this mythological tale, the word Dhanteras comes from the name Dhanavantri, the divine doctor.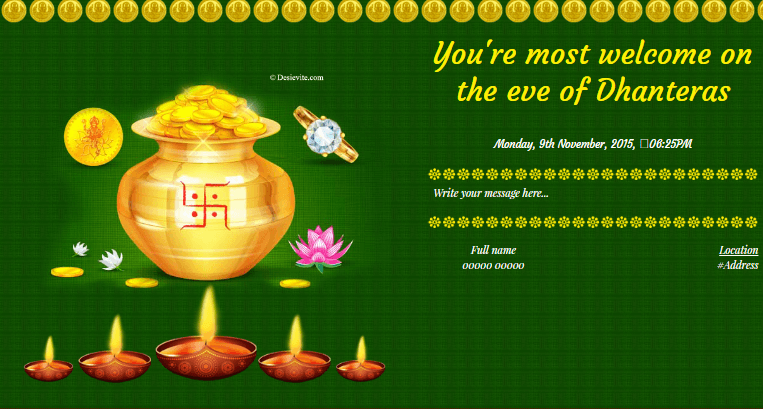 Posted By