Wednesday, November 18, 2015 | 8:04:00 AM
DesiEvite.com invites people for sending free digital invitations to invite family people, loved ones, neighbours and friends on the joyful and festive occasion of the Dhanteras, the celebration of richness and prosperity. Our website, www.DesiEvite.com, helps people in organizing events, inviting people and having RSVP responses from their guests in real-time with all possible details required for the day of the event…all for free and is recognized all over the World!! On behalf of our team, we wish you all a "Happy, Flamboyant and Progressive Effect of Dhanteras!!" (Note: Our e-invitations are 'just in time invitations' because they are totally in authentic digital format for inviting people in real-time via email all over the World; and, in India and Nepal, this facility is available through SMS too, all free of any charge.)
For any doubts regarding the e-invitation processes please check the link: http://www.desievite.com/How_to_Create_Send_Invitations.asp.
About 'Dhanteras':
Dhanteras is the first day of the five-day Diwali Festival as celebrated primarily in Northern & Western part of India. The festival is also named as "Dhanathrayodashi" or "Dhanvantari Thrayodashi". The word 'Dhana,' means 'wealth' in Hindi and 'Thrayodashi' means '13th day' of a Hindu calendar month. Its celebration is done on the thirteenth lunar day of Krishna paksha in the Hindu calendar month of Kartik.
On Dhanteras, Goddess Lakshmi is worshiped to grant richness and security to people. Dhanteras holds special significance for the business community due to the expected consumptions of precious metals on this day. Lord Kubera, who is the God of assets and wealth is also venerated.
For Dhanteras (09-11-2015) click here: http://www.desievite.com/invitation/Festivals/Dhanteras/
At DesiEvite, we feel cheerful, honoured and responsible to all those people and their loved ones for having adored our freely available digital e-invitation on the all grand festive occasions and personal events! Please visit www.DesiEvite.com to invite your loved ones to be with you during this event!
==========================================================
******************************************************************
https://goo.gl/eSr6aC PLEASE DO 'LIKE' US ON OUR FACEBOOK IF YOU HAPPENED TO GET ENCOURAGED BY OUR ONLINE FREELY MANAGEABLE PUBLIC SERVICES BY PRESSING ON THIS LINK: https://goo.gl/eSr6aC
******************************************************************
==========================================================
For any feedbacks on our service, visit: http://www.desievite.com/Submit_FeedBack.asp!
All the Best with your future events…we look forward to serving you again on all forms Indian and Global event celebrations,
DesiEvite Team.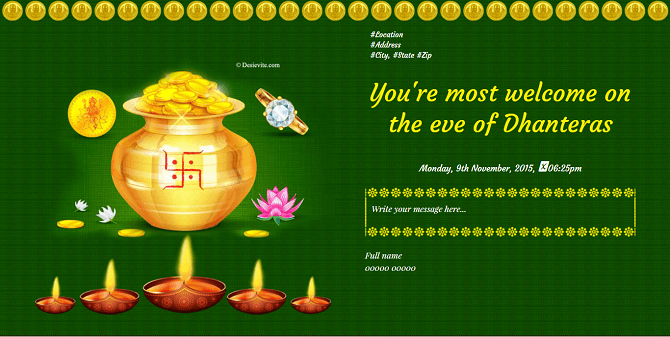 Posted By