Wednesday, September 07, 2016 | 7:38:00 AM
Bommai Kolu/ Bomma Golu
Bommai Kolu/ Bomma Golu is a doll and figurine display festival celebrated during the festival of Navratri in Southern India. It's parts of Tamil Nadu, Andhra Pradesh, Karnataka, and Kerala—feast on colors, light, music, and food.
Visitors are greeted with gleaming dolls, colorful Kolam (Rangoli; that is, floor decoration), lighted lamps, and traditionally dressed women and girls chanting slokas and singing. Traditionally, all family members participate in creating the durbar or assembly of Goddess Durga, which contains a multitude of idols of gods, goddesses, men, animals, and businessmen. This is presented in every house in the form of Golu.
It is a festive occasion where everyone has a role to play, from the young children to the grandparents. Bommai (Doll) Golu is the artistic display of dolls on numbered tiers or steps, usually made of wood. The nine steps represent the nine days of Navaratri. Traditionally, a few top steps include idols of gods and a kalash (ceremonial jar) with fresh water, covered with a coconut and mango leaves. The next few steps have idols of saints and heroes of the country. Another step represents human activities, depicting functions such as marriage, temples, and an orchestra or music band. Business is usually represented by the Chettiar set of dolls, with shop items and wooden dolls called Marapachi dressed in colorful clothes.
Today, Golu has the thematic representation of ancient stories, depicting scenes from Ramayana and Bhagavad Gita, among others. It is a custom to add a few new dolls every year. Children recite slokas, sing songs and eat special dishes offered to the gods, especially the protein-rich dish called sundal (which is made of legumes) with some sweets and fruits. Women folk exchange betel leaves, betel nuts, coconuts, fruits, flowers, bangles, turmeric, and kumkum. On the auspicious day of Amavasai (no moon), the Navaratri preparations start by setting up the steps, decorating the homes and temples, and lighting the streets.
The nine days of Navaratri start the next day and end on the tenth, which is called Vijayadasami (day of victory). Prayers, lamps, sundal, and sweets are offered to the goddess with Aarti (prayerful singing) on all nine days. The ninth day is celebrated with Saraswathi poojai (worshipping the goddess of knowledge and learning). On the ninth day, books and musical instruments are offered along with the Golu. Ayudai pooja (worship and thanksgiving to tools and implements and vehicles) is performed. All kinds of vehicles (such as busses, cars, and trucks) and tools (such as water pumps, chisels, hammers, ploughs) are thanked.
The tenth day is the day of victory—an auspicious day to start new ventures and journeys, and a day to start learning new skills. On the tenth and last day, the Golu dolls are symbolically put to sleep and packed the next day to be brought out of the boxes the following year. You can arrange the dolls on amavasya day night after 6pm or the next day after paatimugam/Pradhamai time.Remember if you have arranged all the dolls,you should start doing the pooja with neivedyam.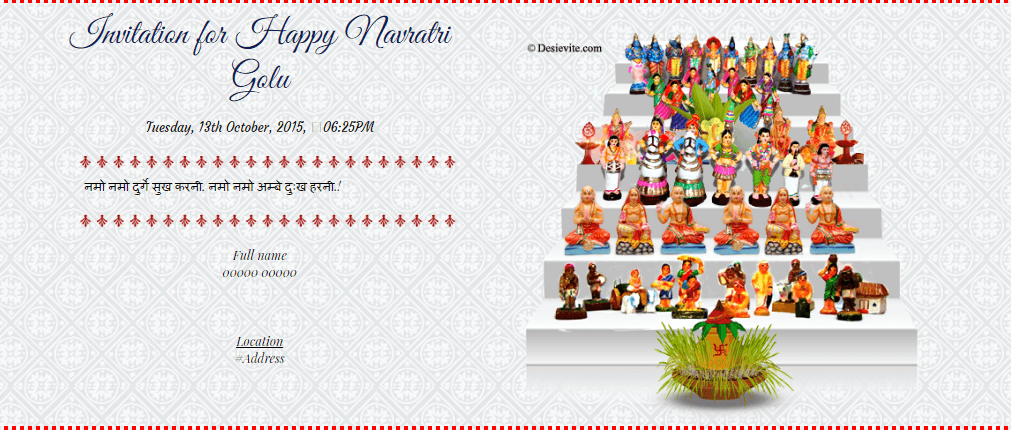 Posted By