Thursday, November 19, 2015 | 10:13:00 AM
Bhai Dooj
>
The Festival for Sisters and their Brothers
<
Bhai Dooj, written as भाई दूज in Hindi, and also called as Bhau-Beej, Bhai Tika, Bhai Phota is a festival celebrated by Hindus of India and Nepal on the last day of the five-day-long Diwali period or Tihar festival. The festival falls on the second day of the bright fortnight or Shukla Paksha of the Hindu lunar month of Kartika.
The celebration on this day is quite comparable to the festival of Raksha Bandhan. On this day, sisters pray for a long and happy life for their brothers. The sisters invite their brothers for a luxurious meal often including their favorite dishes/sweets. The tradition includes sisters performing aarti for their brother and apply a red tika on the brother's forehead. This tika ceremony on the occasion of Bhai Bij signifies the sister's sincerest prayers for the long and happy life of her brother/s. In return the brothers bless their sister/s and treat them also with gifts or cash. The wholeness of this practiced ceremony ultimately encompasses the duty of a brother to protect his sister, as well as a sister's blessings for her brother.
The sister, whose brother lives far away from her and somehow cannot come to her house, sends her heartfelt prayers for the long and happy life of her brother through the moon god as a sense observance of common reflection of light from the moon to both the people staying far-off. She performs aarti for the moon which may reflect back her brother residing elsewhere. This is the reason why children of Hindu parents warmly call the moon as 'Chandamama'.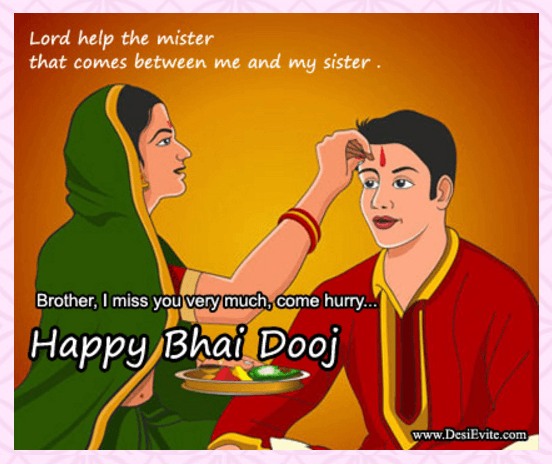 Posted By