Friday, August 31, 2012 | 12:33:00 AM
Labor Day commemorates the economic and social contributions of workers to the strength, prosperity, and well-being of the country. It also pays tribute to the contributions and achievements of American workers. It also marks the end of summer for many Americans. People plan trips and hold outdoor events. In United States it is a national holiday and it is celebrated on first Monday in September (3rd of September).One of the reasons for choosing to celebrate this on the first Monday in September was to add a holiday in the long gap between Independence Day and Thanksgiving.

The first Labor Day was held in 1882.Oregon was the first state to make it a holiday in 1887.On June 28, 1884, the U.S. Congress passed an act making it a national holiday. It is celebrated with parties, parades and athletic events. People enjoy the day with their friends and families, go for boating, picnics, fireworks and much more. A street parade is held followed by a festival for the workers and their families. This became the pattern for Labor Day celebrations. Labour Day was mainly celebrated by the trade unions in collaboration with the political parties.

Labor Day is (or was) considered the last day of the year when it is fashionable to wear white or seersucker. In the U.S., most school resume school after this day.

In U.S. sports, Labor Day marks the beginning of the NFL and college football seasons.

Labour Day has its origins in the labour union movement, specifically the eight-hour day movement, which advocated eight hours for work, eight hours for recreation, and eight hours for rest. Before this great day men and women were working 6 to 7 days a week 12 to 14 hours a day most of the time.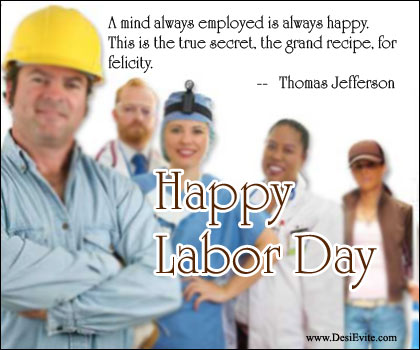 Posted By Desievite Admin