Wednesday, September 05, 2012 | 5:10:00 AM
Grandparents are essential members of our families and communities. Their contribution to the society is un-evitable. We inherit qualities like love, care, parenting and leadership from them. To recognise their contribution Grandparents Day is celebrated each year on the first Sunday after Labor Day in US.
Marian McQuade of Oak Hill, West Virginia, has been recognized nationally by the United States Senate – in particular by Senators Jennings Randolph and Robert Byrd and by President Jimmy Carter, as the founder of National Grandparents Day. Her motivation behind it was to eradicate the loneliness of the older people in nursing homes. She made it her goal to educate the youth in the community about the important contributions seniors have made throughout history. She recommended the young people to adopt a grandparent for the lifetime. Senators Jennings Randolph introduced a resolution to the Senate to make Grandparents Day a national holiday.
National Grandparents Day was first celebrated on Sunday, September 9, 1979. A Song for Grandma and Grandpa by Johnny Prill is the official song on the Grandparents day. Forget me not is the official flower of the Grandparents day.

The purpose of this day is to show the love and affection towards our grandparents. Second, to honor them. Third, to allow them to offer guidance to the youth. Fourth, to love their grandchildren. Fifth to spend time with them. Sixth to have a little fun with them.
National Grandparents Day is the time to thank them for their contribution. One of the best and effort less way to thank them is to send an e-card. Desievite is the portal which has an excellent collection of Grandparents e-cards. Support category has nice collection of e-cards which reminds their support without it we would not be able to achieve our current goal or profession. Thank you e-card is also a best option. We must be missing our Grandparents. Miss you e-cards are also an option. In addition to that the process of sending e-cards is very simple. Don't think a lot. Just visit www.desievite.com and send Grandparents Day e-card today.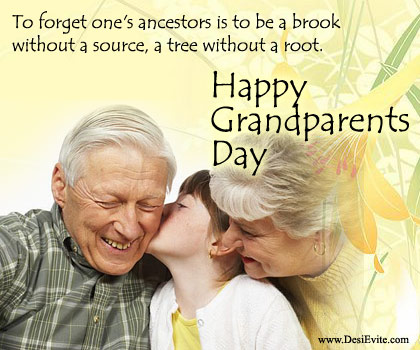 Posted By Desievite Admin