With Desievite you can create Navratri invitation video for WhatsApp.
Navratri festival is celebrated to worship the nine forms of Goddess Durga, the Hindu Goddess of Power. It is a very important Hindu Festival and celebrated all over the country. Navratri is a sanskrit word which means 'Nine nights'. The festival of Navratri continues for nine days. It is followed by Vijaya Dashmi (also Dussehra) Festival on the 10th day. In Gujarat, people gather in groups to perform the Dandiya and Garba dance. The dandiya sticks of various colours are used. Some people also throw dry colours on each other. Many devotees fast for entire nine days during the festival. They chant various mantras and slokas while worshiping the Durgaa Maa.
Personalize invitation video for Navratri / Golu / Kolu.


Step 1:- Open Desievite.com
Step 2:- Go to Navratri Festival in Festival section.
Step 3:- Now you can choose design from our available designs.

Step4:- After clicking on buy now button to purchase video template and after making payment you can Personalize video
.
Step 5:- Click on Personalize card and fill up all details.
Step 6:- After you have added all these details, just take a preview of your details and We have option to download/RSVP your video invitation, you can download invitation or send it on email or save as a draft.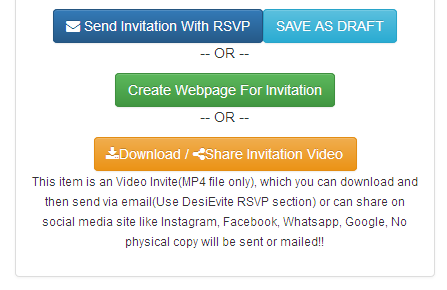 Step 7:- Download invitation video/card then open your WhatsApp then do as shown in following image.
Step 8:- After sharing it will looks like as follow.
Step 9:- while playing video invitation.