Half Saree Function

Coming of age is a young person's transition from childhood to adulthood. The age at which this transition takes place varies in society, as does the nature of the transition.
It can be a simple legal convention or can be part of a ritual, as practiced by many societies. In Hinduism coming of age generally signifies that a boy or girl is mature enough to understand his responsibility towards family and society.
In South India Coming of age ceremony or rites of passage (Langa Voni Telugu: లంగా వోని), is celebrated when a girl reaches 9, 11 or 13 years (Odd years).
She wears Langa Voni ( Half saree ) given by her maternal grandparents, which is worn during the first part of the ceremony and then she is gifted her first Sari by her paternal grandparents, which she wears during the second half of the ceremony.
This marks her transition into womanhood. The tradition of giving Langa Voni by maternal grandparents begins with the girl's first naming ceremony Namakaran and her first rice feeding ceremony called Annaprashana. She receives her last one at her coming of age ceremony.
Langa Voni is traditional clothing for unmarried girls in South India.
Sample half saree invitation card template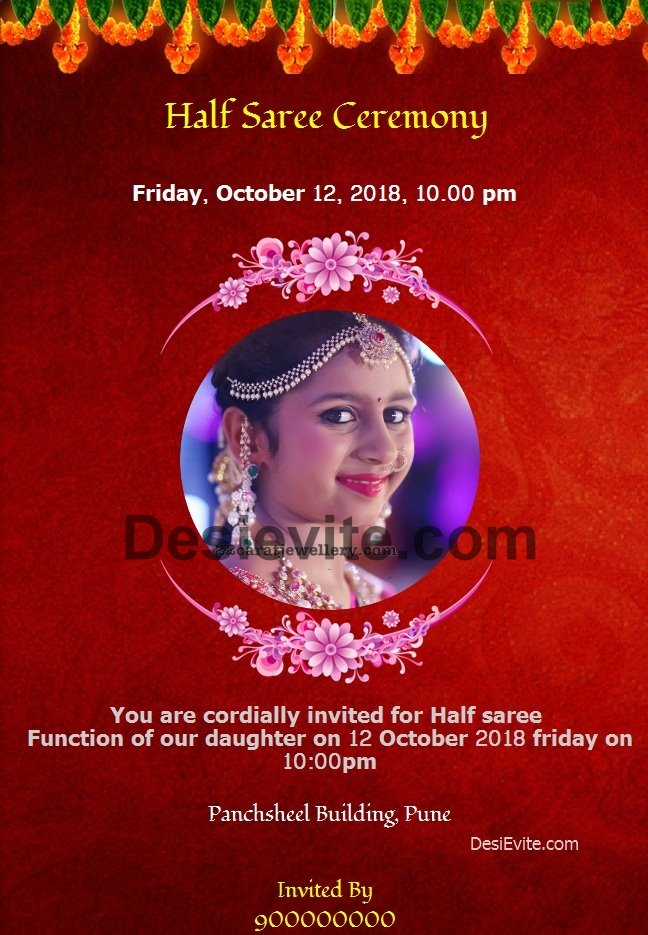 Create half saree invitation card