free online Thanksgiving invitation cards
Take this opportunity to thank all the people in your life who have helped you in one way or the other. Send them a thank you ecard using our Desievite portal. Create an e-invitation through Desievite portal and send it to the people and get along to celebrate. You can share or post card on Facebook, Google plus, and Twitter. You can also download your Thanksgiving invitation card. You can send online invitation to your guest and they can RSVP your invite and you will have list of people attending/not attending Thanksgiving party
DesiEvite.com is an online tool/software to create Thanksgiving card for Whatsapp & Instagram.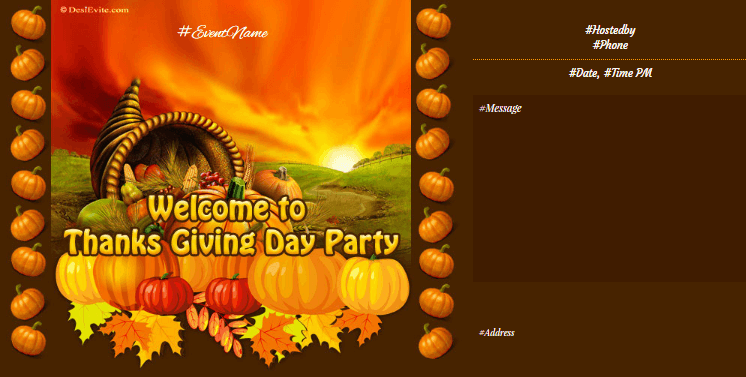 Thanksgiving Day Thanksgiving Day is traditionally a day for families and friends to get together for a special meal. The meal often includes a turkey, stuffing, potatoes, cranberry sauce, gravy

Copyright DesiEvite.com, 2015-2018, Contactus Email : DesiEviteAdmin@DesiEvite.com