premium online Republic Day invitation cards
Create and Send personalized online invitations for Republic Day with DesiEvite.com via email. Create Republic Day invitation card with your photo, name, piece of art or personalized invitation message/text. You can download your Republic Day Invitation card and can send through whatsapp, or can share on Facebook, instagram, google plus, pinterest, twitter,. You can send online invitation to your guest, friends can RSVP your invite and you will have list of people attending/not attending Republic Day .
DesiEvite.com is an online tool/software to create Republic Day card for Whatsapp & Instagram.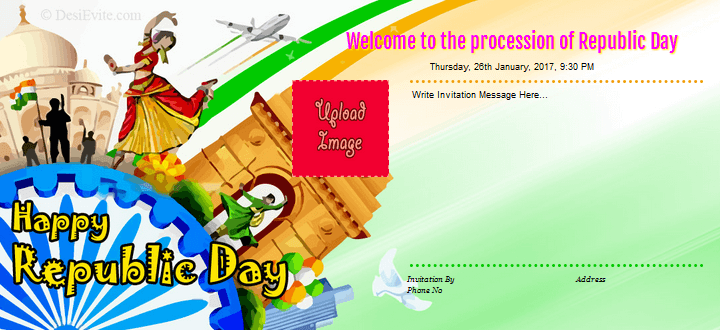 Republic Day Republic Day in India is celebrated to commemorate the coming of its own constitution into force. it is celebrated every year in the national capital of India (New Delhi) at the Rajpat

गणतंत्र दिवस आकाश में तिरंगे गुब्बारे और सफेद कबूतर छोड़े जाते हैं। जल, थल, वायु तीनों सेनाओं की टुकडि़यां, बैंडो की धुनों पर मार्च करती हैं। पुलिस के जवान, विभिन्न प्रकार के अस्त्र-षस्त्रों, मिसाइ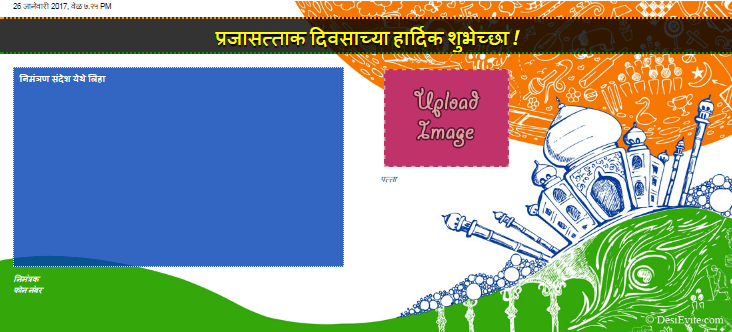 प्रजासत्ताक दिवस भारतीय प्रजासत्ताक दिवस हा दरवर्षी जानेवारी २६ रोजी पाळला जाणारा राष्ट्रीय दिन आहे. भारताची राज्यघटना समितीने २६ नोव्हेंबर, इ.स. १९४९ रोजी स्वीकारली व ती २६ जानेवारी इ.स. १९५० रो

Copyright DesiEvite.com, 2015-2018, Contactus Email : DesiEviteAdmin@DesiEvite.com