Free online Valentine's Day invitation cards
Create and Send personalized online invitations for Valentine's Day with DesiEvite.com via email. Create Valentine's Day invitation card with your photo, name, piece of art or personalized invitation message/text. You can download your Valentine's Day Invitation card and can send through whatsapp, or can share on Facebook, instagram, google plus, pinterest, twitter,. You can send online invitation to your guest, friends can RSVP your invite and you will have list of people attending/not attending Valentine's Day.
DesiEvite.com is an online tool/software to create Valentine's Day card for Whatsapp & Instagram.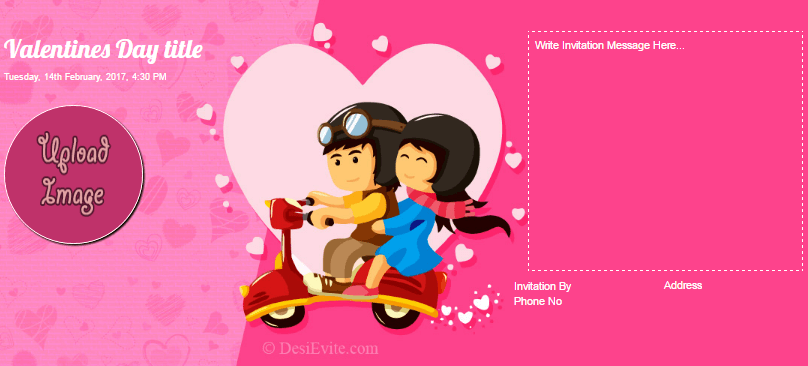 Valentine's Day Valentine's Day celebrations did not catch on in India until around 1992. It was spread due to the programs in commercial TV channels, such as MTV, dedicated radio programs and love

Copyright DesiEvite.com, 2015-2018, Contactus Email : DesiEviteAdmin@DesiEvite.com