Monday, February 6, 2017 | 12:01:00 PM
Thai Poosam

A festival occurring in the Tamil month Thai (January - February), on the day of the star Poosam around Pournami (Full Moon) is celebrated as Thaipusam [Thai Poosam]. There are several legends about the festival Thaipusam. Here are a few of them

There was a demon named Tharakasuran who gave a lot of trouble to the rishis and saints. Lord Muruga was called by his parents Lord Shiva and Parvati and given the job of destroying the Asuran. Lord Muruga set off with the blessings of his parents to destroy the demon. He took with him twelve weapons, eleven of which were given by his father Lord Shiva and the 'Vel' given by his mother Parvati. Lord Muruga destroyed Tharakasuran on the Poosam Nakshatra day in the Tamil month of Thai and hence Thai Poosam is celebrated in all Murugan temples.

According to another legend, as Shiva was imparting a mantra to Parvati, Lord Muruga eavesdropped on them. For that error, Parvati laid a curse on him, in line with the rule that even a son, if erring, must be punished. To be redeemed from her curse, Lord Muruga offered hard penance at Thiruparankundram. Pleased with his penance, Shiva and Parvati appeared before him and lifted the curse. The day on which the curse was removed is Thai Poosam.

The unique character of the Thai Pusam is the astonishing parade of people bearing kavadis. As already stated, the kavadi, associated with Idumban, vassal of Muruga, originated in Palani.

There are several kinds of kavadis, the milk and rosewater kavadis being the principal ones. The central shaft of the semicircular wooden structure is placed on the shoulders and the pilgrims dressed in yellow costume and decorated with garlands, undergoing many privations to fulfill vows, dance their way through the streets and up the hillock under the hypnotic music provided by the drum, the pipes and the tom-tom.


It is thus a special day for worship of Lord Muruga or Subrahmanya and is celebrated in a very grand manner at all Murugan temples, especially at the Six Battle Camps or 'Arupadai Veedu' of Murugan.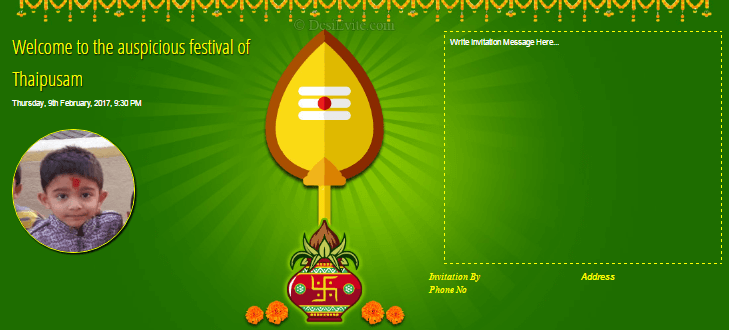 Posted By