Tuesday, November 29, 2016 | 6:41:00 AM
Konark Festival
Konark Dance & Music Festival started in the year 1986 at Konark Natya Mandap by its Founder-Director Padmashree Guru Gangadhar Pradhan. In a sense it can be called the harbinger of the contemporary festivals of Orissa. The sole aim behind this festival is to bring in many artistes into its cultural family and creating of international cultural amity and brotherhood. This festival has established its own unique identity in the sense that eminent artistes of national and international repute participate and perform Odissi, Kathak, Bharatnatyam, Kuchipudi, Manipuri, Mohiniattam and other classical, folk & tribal dances/music of our country on the enchanting stage of the Natyashala in the monumental Sun Temple, Konark. The stage and the atmosphere is magnified by the spiritual and aesthetic flavor, in the natural ambience of casuarinas and cashew trees. This festival is held every year from 19th to 23rd February.
Konark Dance Festival is a dance festival held every year in December in backdrop of the Sun temple in Konark, Odisha in India. The exquisite 'Salamander' or the 'dancing hall' of this shrine is an architectural wonder. Every inch of its walls have been covered with fine artistic designs of the ancient times. Musicians playing drums, cymbals and other musical instruments adorn the sculptures in Odissi dance poses. Many celebrated dancers from all over the country perform at this venue. Since 1989, this festival has been organized in the state jointly by Odisha Tourism and Odissi Research Centre to promote the diverse Indian dance heritage as well as the popularity of Konark Temple and Odisha as a tourist destination.
Konark Dance Festival 2016 - An ideal choice for not the monuments, beaches and scenic beauties only but Konark is also well known for its colorful festivals. Eminent classical dancers from all over the country get together from Dec. 1 to Dec. 5 to pay tribute to a master piece in stone- Sun temple at Konark.

A crafts mela is also put up during the Konark Dance festival. Serving a wide array of delectable cuisines and a variety of handicrafts, this mela adds more fun to the festival thus making it a perfect venue for a family get together on a holiday or a joyous experience to the tourists.
The festival is a potential platform for the performing artiste and the dance connoisseurs both. It also comes as a right opportunity for the budding artists who are yet to make their presence felt on the international scale.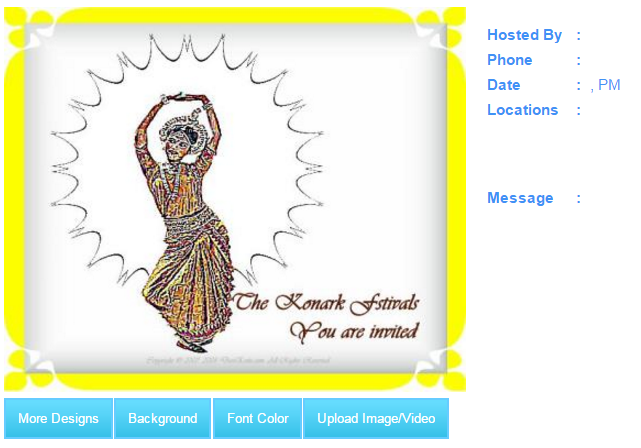 Posted By