Thursday, October 29, 2015 | 4:58:00 AM
Karva Chauth
DesiEvite.com invites people to send free digital invitations to invite your family people, husbands and wives on the holy occasion of Karva Chauth. Our site www.DesiEvite.com helps people in organizing events, inviting people and having RSVP responses from their guests in real-time with all possible details required for the day of the event…all for free! On behalf of our team at Pune Development Centre, we wish you all a "Happy and Sacred Karva Chauth!!" (Note: Our e-invitations are 'just in time invitations' because they are totally in authentic digital format for inviting people in real time via email all over the World; and, in India and Nepal, this facility is available through SMS too, all free of any charge.) For any queries regarding the e-invitation processes please check the link: http://www.desievite.com/How_to_Create_Send_Invitations.asp. The DesiEvite's Karva Chauth E-Invitation Cards can be found at the following link:- http://www.desievite.com/invitation/Festivals/Karwa-Chauth/
About Karva Chauth –
Karva Chauth is a holy festival celebrated by Hindu women in North India in which married women fast from sunrise to moonrise just for the safety, longevity, well-being and prosperity of their husbands. Moreover, many a times, unmarried women observe the fast for their fiancés or desired husbands during this day. The fast is traditionally observed in the states of Rajasthan, parts of Uttar Pradesh, Himachal Pradesh, Haryana, and Punjab.
Karva is a Hindi word that literally means 'pot' (a small earthen pot of water or lantern) and chauth means 'fourth' in Hindi referring that the festival falls on the fourth day of the dark-fortnight also called as krishna paksh, of the month of Kartik i.e. the fourth day after the full moon, in the Hindu lunisolar calendar month of Kartik.
On the day of Karwa Chauth, married women keep a strict fast and do not take even a drop of water. It is the most important and difficult fast observed by married Hindu women. It begins before sunrise and ends only after offering prayers and worshiping the moon at night. No food or water can be taken even after sunrise. The wait for the moon rise begins after sunset, and as soon as the moon is sighted, prayers are offered to the moon. The fasting women first observe the moon and their respective husbands through a sieve and then break their fast once rituals of the day have been performed. Women break their fast after offering water to the moon. The first sip of water and the first morsel of food is offered by the husband himself.
Benefits of Karva Chauth practice: Fasting is not only a part of worship, but a great instrument for self-discipline too. It is a training of the mind and the body to endure and harden up against all hardships, to endure under difficulties and not give up. The ancient Indian medical system of Ayurveda sees the basic cause of many diseases as the accumulation of toxic materials in the digestive system. Regular cleansing of toxic materials keeps one healthy. By fasting, the digestive organs get rest and all body mechanisms are cleansed and corrected.
Other Hindu practices that have similar meaning and significance as Karva Chauth but, may fall on different dates of the year are: Vat-Savitri Puja, Teej, Mahashivratri, Gangaur, Varalakshmi Vratham, and Karadaiyan Nombu and they suggest personalised values belonging various regional areas of India.
At DesiEvite, we feel cheerful, honoured and responsible to all those people and their loved ones for having adored our freely available digital e-invitation on the all grand festive occasions and personal events! Please visit www.DesiEvite.com to invite your loved ones to be with you during this event!
=======================================================================================
***************************************************************************************************************************
PLEASE DO 'LIKE' US ON OUR FACEBOOK IF YOU HAPPENED TO GET ENCOURAGED BY OUR ONLINE FREELY MANAGEABLE PUBLIC SERVICES BY PRESSING ON THIS LINK: https://goo.gl/eSr6aC
****************************************************************************************************************************
========================================================================================
For any feedbacks on our service, visit: http://www.desievite.com/Submit_FeedBack.asp!
All the Best with your future events…we look forward to serving you again on all forms Indian and Global event celebrations,
DesiEvite Team.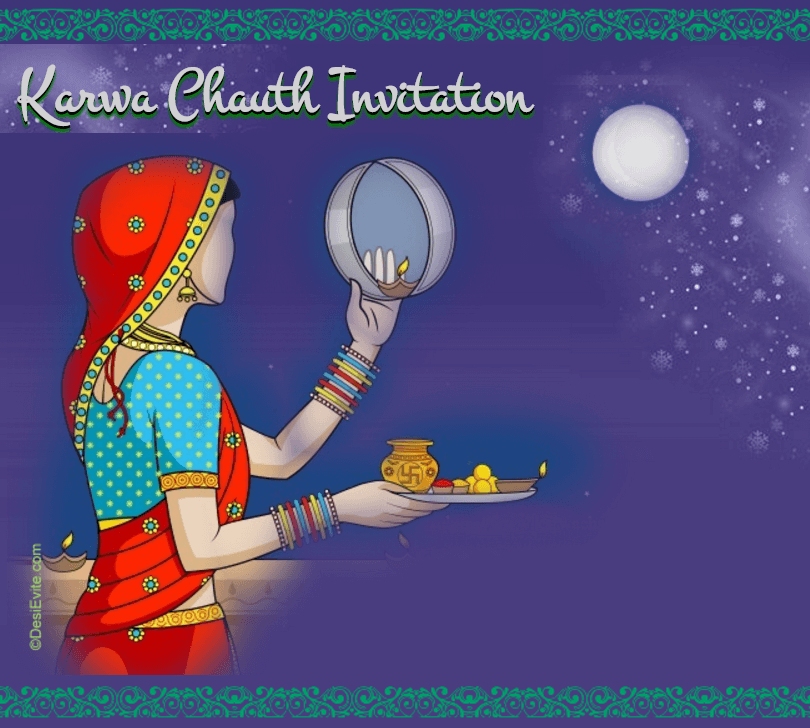 Posted By