Tuesday, October 9, 2012 | 8:43:00 AM
id al-Adha or Greater Id is an important festivity celebrated by the Muslims. This festival recalls the sacrifice of Abraham. He cheerfully accepted God's order to sacrifice his son Ishmael. His act made the God's happy and they intervened to provide him with a sheep to sacrifice instead. It is also known as Bakr-Id. It lasts for three days. It is celebrated after the end of the Hajj. It symbolizes obedience to Allah and its distribution to others is an expression of generosity, one of the five pillars of Islam.
People celebrate Eid al-Adha by organizing family meals, eating sweet foods, wearing new clothes, giving gifts, visiting the family and friends or give money to children. People also pray for prosperity and happiness on this holy day. People also ask for forgiveness for the sins committed in the past. Muslims greet each other by saying Eid Mubarak. It requests us to makes small sacrifices, giving up things that are fun or important to us. Lord desires from it pupils strength of heart, purity in faith, and willing obedience.
Desievite has a nice collection of Eid-al-Adha e-cards. It also has a great collection of Eid, Eid-al-Fitr, Iftar and Ramadan e-cards and invitation. These would definitely fit in to your needs. Visit www.desievite .com today and send an invitation and e-cards to your guests today.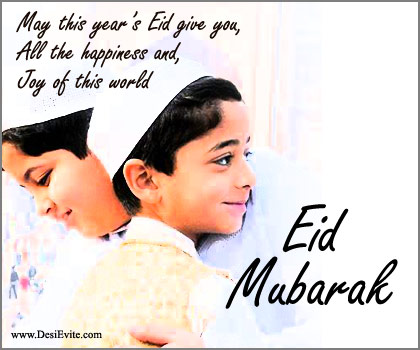 Posted By Desievite Admin